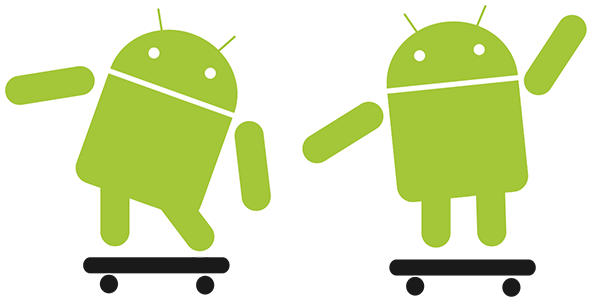 So Google's latest version of its Android mobile operating system does support mobile payments, after all, we learn from NearFieldCommunicationsWorld.com (NFC World). When Gingerbread (aka Android 2.3) was released last week, we knew that it supports near field communication (NFC), but it was not clear whether it was capable of facilitating m-payments.

Well, it is now official: Google Nexus S, the successor to the Nexus One, can be used for making mobile payments. The device is made by South Korea's Samsung. Here is what NFC World had to say on the subject:
The Google Nexus S, the first Android phone to support NFC, already has all the functionality required to support a full range of near field communication services, chip maker NXP has told NFC World.


Software upgrades to Android 2.3 and further extensions to the software development kit (SDK) to support mobile payments and other NFC functions will be rolled out in phases.

Even before the new release, the Android OS had been gathering momentum in a smartphone market that is becoming ever more hotly contested. It is very likely that Gingerbread's NFC support and m-payment capability will increase its appeal even further.

According to Gartner, an information technology research and advisory firm, Android's share of the smartphone market is surging and has already overtaken both Apple's iOS and Research In Motion's BlackBerry.

By the year's end, Android will own 17.7 percent of the market, up from just 3.9 percent a year ago. This would place Google's OS second only to Finland Nokia's Symbian, whose 2010 market share will be 40.1 percent. However, the momentum is clearly on Android's side. By 2014 the two will almost be even, the researchers from Gartner predict. See the full market distribution in the chart below.

Mobile OS Share of the U.S. Market, in %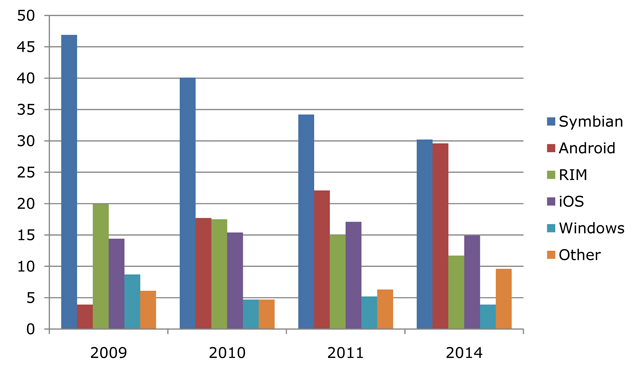 Source: Gartner (August 2010)

So, if Gartner's forecast is borne out, Google's mobile OS will take over the lead in as early as 2015. By then, mobile payments will have become as commonplace as PayPal transactions are today and the search giant will be very well positioned to profit from yet another fast growing industry.

The mobile payments industry is still in its infancy and predictions of its growth and direction are bound to be less reliable than similar forecasts for better established markets. So, when we read that the volume of m-payments in the U.S. will reach $214 billion by 2015, up from just $1 billion in 2008, we should take that with a grain of salt. Still, it is clear that most of us will be making payments from our cell phones in the not-too-distant future. Personally, I can't wait for the day when I will no longer have to plastic credit cards on me. Well, that day is coming fast!

Image credit: Wikimedia Commons.