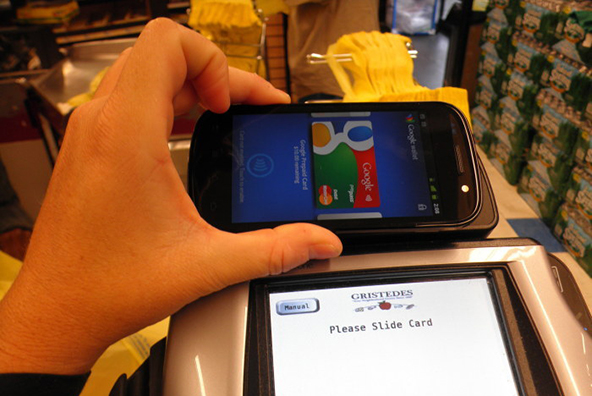 Just a day after we learned that Apple's next iPhone will not support mobile payments, Bloomberg reports that rival Google is about to start testing an ambitious plan for its own mobile payments service in stores in San Francisco and New York.

Google's Mobile Payments Test

According to the report, citing two anonymous sources, the search giant will begin testing its mobile payments service in the two cities within four months. The project will apparently involve thousands of stores.

Google is partnering in the test with VeriFone, a large hardware manufacturer for the payment card industry, which will deploy specially designed checkout registers at the participating stores.

The project will be based on near-field communication (NFC), a short-wave technology for transmitting data at distances of up to eight inches. NFC has emerged as the technology of choice for most of the big technology companies contesting the field.

Google's Mobile Payments Competition

Although Apple is for the time being staying out of the fray, Google is still left with plenty of company in its quest for mobile payments domination.

The biggest one among them is probably Isis, a joint venture involving three of the largest U.S. wireless carriers — AT&T, T-Mobile, and Verizon, the fourth-largest U.S. payment network — Discover — and one of the largest British banks — Barclays. The quintet's stated goal is to create a nationwide mobile commerce network, based on NFC technology.

Research In Motion (RIM), the maker of BlackBerry, has also announced a plan to test its NFC-based "Mobile Wallet", in partnership with Bank of America.

Visa and MasterCard, as expected, are also in the NFC race, mostly through a variety of solo projects, but incredibly enough, through a joint project as well. The two rivals were brought together by a test program run by the New Your Metropolitan Transportation Authority (MTA) that lets commuters pay for some of their subway fares by tapping an NFC-enable phone at the turnstile.

A host of other banks, telecoms and technology companies are developing their own NFC services, both in the U.S. and abroad.

Top Five Mobile Payment Markets by Volume in 2015

| | |
| --- | --- |
| Mobile Payments Type | Volume |
| Bill Payments | $82 Billion |
| Bank Card Acceptance | $54.8 Billion |
| E-commerce over Mobile Phones (M-Commerce) | $27.3 Billion |
| Point-of-Sale Payments (NFC Payments) | $22.6 Billion |
| Person-to-Person Transactions | $13.8 Billion |
VeriFone's Mobile Payments Ambitions

VeriFone, Google's partner in the New York / San Francisco test, gained a lot of publicity last week following its head-on attack against rival Square. VeriFone CEO Douglas G. Bergeron accused the start-up, founded by Twitter creator Jack Dorsey, of placing "consumers in dire risk" through a "serious security flaw" in Square's credit card reader. The flaw could easily be exploited by criminals to "skim" – or steal – a consumer's credit card account information right off the card, the allegation went. To illustrate their point, VeriFone posted a video showing exactly how this could be done.

VeriFone, through its PAYware service, and Square compete in a sector of the fledgling mobile payments industry — direct bank card acceptance — that is not contested by Google. Direct acceptance allows for the customer's card to be swiped through a reader attached to a mobile device. Intuit, through a couple of separate services, is also competing in the field that is projected to generate $54.8 billion in U.S. transaction volumes by 2015.

The Takeaway: Mobile Payments Are Coming Fast

Even with Apple out of the picture, Google, RIM and other technology heavyweights are well on their way to bringing NFC-based payments to American smart phone users in the coming months. Google is giving away its NFC-supporting Android 2.3 operating system for free and claims it is being downloaded by 300,000 users a day.

Now, chances are that there will be hiccups along the way, as with all new technologies, but I expect that all smart phones will be coming standard with NFC capabilities within a year. For me, the only question is which service will allow me to connect my biggest cash-back reward-earning card to my NFC-enabled phone.

Image credit: Tribalddb.com.