Google is stepping up its campaign of promoting its Google Places service by expanding its NFC-based local search project to four new cities, after an apparently successful test in Portland, OR. The "Recommended on Google" stickers will now begin to appear on windows in Las Vegas, Madison, Charlotte and Austin, we learn from a press release.

What Does Google's NFC Sticker Do?

So whenever an owner of an NFC-enabled cell phone sees the "Recommended on Google" sticker on a store window, she can wave her phone by the sticker and get various information and special deals related the business that can be found on the web.

For example, consumers will see the retailer's address, phone number, hours of operation, payment types accepted, reviews and other details. Additionally, consumers can rate and review the business from their phone and then receive personalized recommendations in their search results that are customized to take account of their own and their friends' shared preferences.

A fifth of all Google searches are for local information, according to Bernardo Hernandez, a senior director of consumer marketing for the search giant. The "Recommended on Google" stickers provide an "interesting ways to connect… locals and visitors with the businesses in the area," he says.

20% of Smart Phones Worldwide to Support NFC by 2014

Near-field communication (NFC) is a wireless technology that allows enabled devices to share information at short distances (8 inches or less). It is mainly intended for use in mobile phones.

So far in the U.S. there is only one cell phone available on the market and it is the Google Nexus S. However, this is about to change, fast. According to a recent Juniper Research report, globally by 2014?áat least one in five smart phones, or 300 million units, will feature NFC functionality. Moreover, half of all NFC-enabled smart phones in 2014 will be owned by North Americans. So much for Americans lagging behind Asians and Europeans in adoption of cutting-edge mobile technologies.

Google's NFC Mobile Payments Push

While the Google Places project falls squarely within the search giant's traditional area of interest — information management — the company is also actively exploring the NFC technology's main field of application: mobile payments.

Last month we learned that within four months Google will begin tests of its NFC-based mobile payments service in stores in San Francisco and New York. VeriFone, Google's partner in the project and one of the biggest manufacturers of point-of-sale (POS) equipment in the U.S., will be deploying NFC readers to thousands of stores in the two cities.

In a separate project, Google will enable owners of MasterCard-branded cards issued by Citigroup to store their information into their Android-powered NFC-enabled smart phones, turning them into mobile wallets.

What Does Google Want?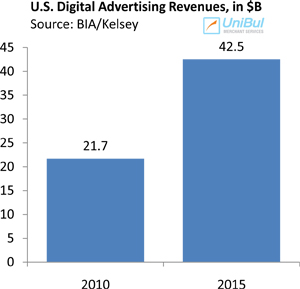 Google Places may be the only one of the search giant's NFC-based projects that is not related to mobile payments, at least so far, but it is the one that shows most clearly what it is that Google wants to get out of the technology.

Google is an information management company and treats the upcoming mobile payments revolution as yet another opportunity to improve on its data gathering and managing capabilities. This is the reason why Google will not be getting a cut of the transaction fees Citigroup will charge merchants participating in the two companies' joint project. Rather, Google will be making its money from targeted ads and coupons its platform will allow merchants to distribute.

It is a huge and growing market to be sure. According to BIA/Kelsey, a local media consulting and research company, U.S. digital advertising revenues — delivered to consumers through mobile, internet or other electronic methods — will grow to $42.5 billion by 2015, almost double the 2010 level of $21.7 billion. Google will no doubt want to grab as big a chunk of it as it can.

Image credit: Warkz.com.