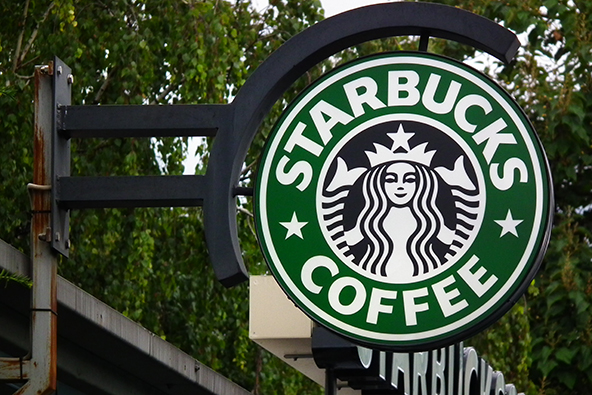 I love Starbucks! I am a loyal customer and rarely miss a chance to get my latte or cappuccino whenever I walk by one of their stores here in Boston or drive by one elsewhere. I'm not old enough to know how America looked like without Starbucks, but I'm just old enough to remember how bad coffee used to be even a mere decade-and-a-half ago, well into the Starbucks age. A testament to the coffee chain's success is that now even McDonald's feels forced to serve drinkable coffee!

Apart from bringing the standard of American coffee (almost) up to European levels, I'm hugely grateful to Howard Schultz for creating the characteristically inviting and relaxed atmosphere of his stores that I and many, many millions of other coffee lovers (and Starbucks employees) find so irresistible. So much so that many people practically live there. In fact, I have a friend who runs a fast-growing technology company from a Starbucks store in Boylston St. in Back Bay.

On the other hand, I do have my issues with Starbucks' approach to mobile payments. Not because it is not successful – on the contrary, Starbucks' mobile payments strategy is by far the most successful one presently employed by a U.S. retailer. My gripe is that it greatly limits its users' payment choices. But I've already written about all that. In this post I'd like to say a few words about the value that mobile payments bring to Starbucks itself. And it's about much more than the appearance of being cool and up-to-date.

Mobile Payments the Starbucks Way

MSN Money's David Hatch has a good piece about the motives behind Starbucks' foray into mobile payments' territory, with which I agree. He begins by quoting Adam Brotman, Starbucks chief digital officer:
A lot of our customers have their phone in their hand when they come into our store. We knew that customers were increasingly more mobile — were increasingly using their phone as a primary computing device.

But many others have made this observation as well and yet, Starbucks is the only major retailer that has been able to take advantage of this trend. To explain how they've done it, Hatch recruits the help of a couple of experts:
"They've really enhanced the customer experience at point of sales," says Den??e Carrington, senior analyst with Forrester Research. "There's an element of fun" that happens when people pay with mobile phones, explains Carrington, who expects other companies to follow Starbucks' lead with similar initiatives.

I agree. The customers are attracted to the coolness of the thing. The company claims that mobile payments are processed faster than other payment methods, but I am not convinced. I'm always using my credit card at Starbucks and a payment has never taken more than a few seconds to process. More importantly for the company, mobile payments are much less costly to process than credit cards, because Starbucks' mobile app requires users to open up a Starbucks-issued prepaid card, which is the only payment method that is allowed. But there is much more than processing fees that Starbucks is after.

What's in It for Starbucks?

Here is how Hatch answers this question:
Beyond adding convenience and limiting credit card fees, the mobile app provides Starbucks valuable data that it can use for analytics and marketing. With customers' permission, Starbucks can track their whereabouts using geolocation software on their phones to alert them when they're within walking or driving distance to one of its stores. Customers can also opt to receive updates from the company via email and text message. Starbucks even monitors which items people are consuming — or due to lack of sales, avoiding — and responds accordingly. "It's definitely a research tool," the spokeswoman says.

I agree. It's all about the customer data and connectivity. Now, I wouldn't give Starbucks my personal information, nor would I want to be getting a text message every time I walked by one of their stores, but plenty of customers have done it already and many others are joining them every day when they download the app.

The Takeaway

As Hatch reminds us, the coffee chain has built a vast and loyal customer base:
Starbucks also claims to be among the most-liked brands on Facebook, among the most-tweeted brands on Twitter, and the most popular retail destination for users of Foursquare, a site that allows people to share their locations.

It would make sense to try to keep things that way. However, at some point or other, Starbucks is bound to find itself dealing with privacy issues related to its m-payments program and these are never easy to solve (just ask Google or Facebook). I'm sure the company hopes it can manage and anyway, the potential benefits are huge and well worth the effort, so inaction is not an option.

Moreover, where would people go if they left Starbucks? Dunkin' Donuts?

Image credit: Wikimedia Commons.