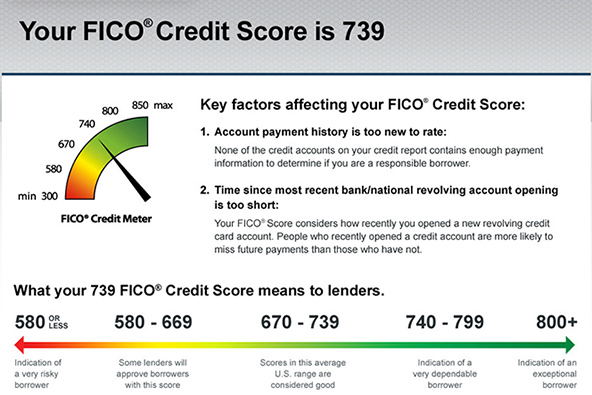 Discover has now made good on its promise to give all of its customers free access to their FICO credit scores, following a partial rollout in November of last year. The FICO scores provided by the nation's fourth-largest credit card network are based on cardholders' data supplied by TransUnion, one of the three national credit reporting agencies. Discover proudly informs us that it is "the first major credit card issuer to provide free FICO?« Scores directly to its cardmembers on their monthly statements" and I think that the company is fully justified in its boasting.

Regular readers may recall that what allowed Discover to, well, discover its charitable side was the decision taken last November by FICO — the maker of our country's most widely used credit score — to allow card issuers to give free credit score access to their cardholders through the new FICO Score Open Access program. Barclaycard US and First Bankcard were the first issuers to enroll and Discover quickly followed suit.

There have been many other services, which have been offering free credit scores even before FICO's decision to open up, but these have been alternative measurements of our creditworthiness, not the FICO score itself, which is what most lenders use in their underwriting process. So this is a great development and I hope that other issuers will be enrolling. Let's take a closer look at what Discover is giving us.

FICO Scores Now Available to All Discover Cardholders

Discover is telling us that it is providing free FICO scores to all of its cardholders, as well as information on "the two key factors explaining what information from a person's TransUnion credit report influenced his or her particular FICO Score". Now, I'm not sure why Discover has chosen to focus on precisely two of the key factors affecting a person's credit score, as they are five in total and all of them are important in the sense that getting any of the five wrong would be enough to damage your score.

It is true that the top two factors — payment history and amount owed — carry much more weight than the others in FICO's algorithm, accounting for 65 percent of the score's total, but Discover is telling us that they would be focusing cardholders' attention not on those factors, but on the two that are having the greatest impact on their personal scores. For my part, I think people would be better served if none of the FICO constituents was ignored. Anyway, here is what a Discover cardholder would be seeing: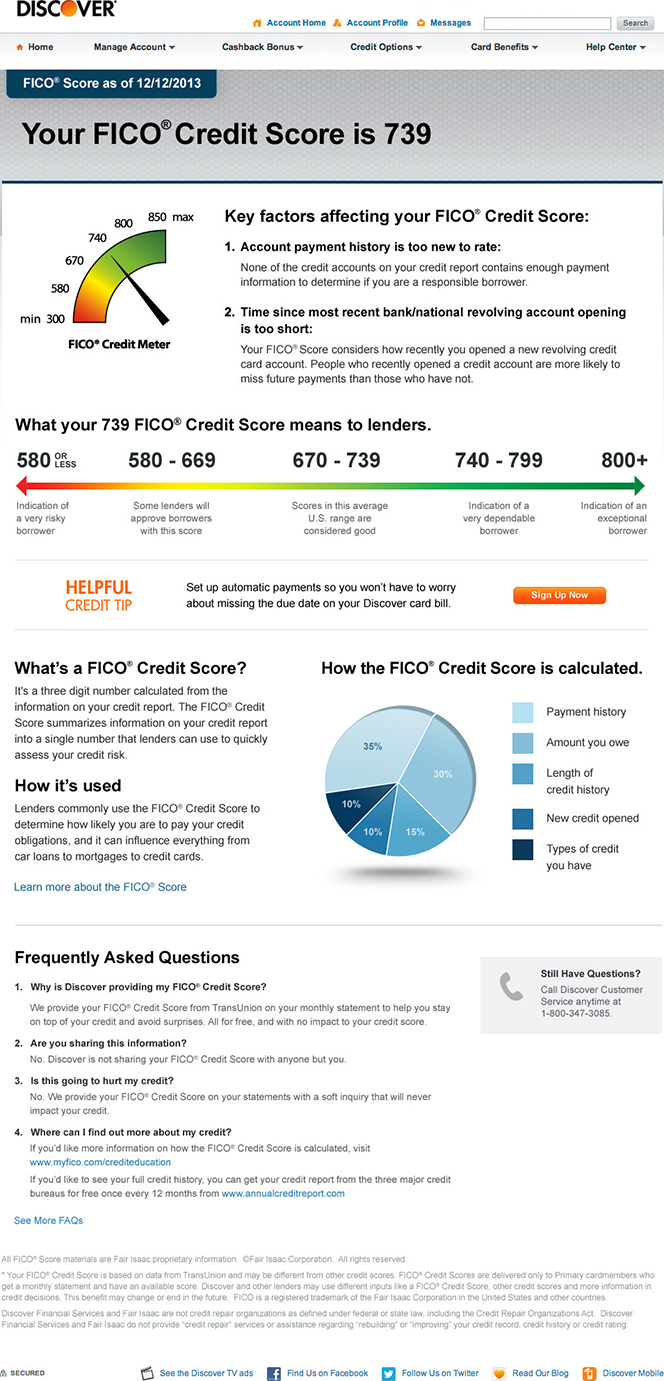 A Note on the Alternatives

As Forbes' Caroline Mayer notes this morning, the FICO score has many alternatives:
[Y]ou may have seen ads like the one for the financial-monitoring website, CreditKarma.com, touting that you can get its scores online in minutes. Others now offering free scores include the online credit-educational sites Credit.com, Quizzle.com and CreditSesame.com. Some of the consumer sites will also explain why your score is what it is and what you could do to raise your number.

I have used Credit Karma, which tells us that it is showing its users their TransUnion credit scores, as well as three other scores. Here is what they give you: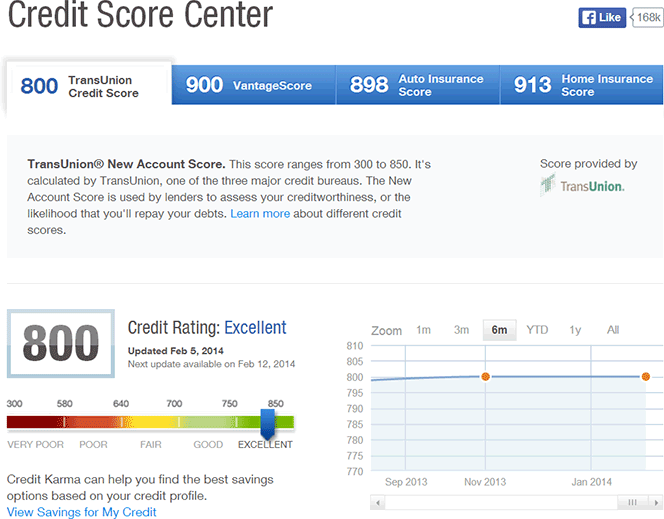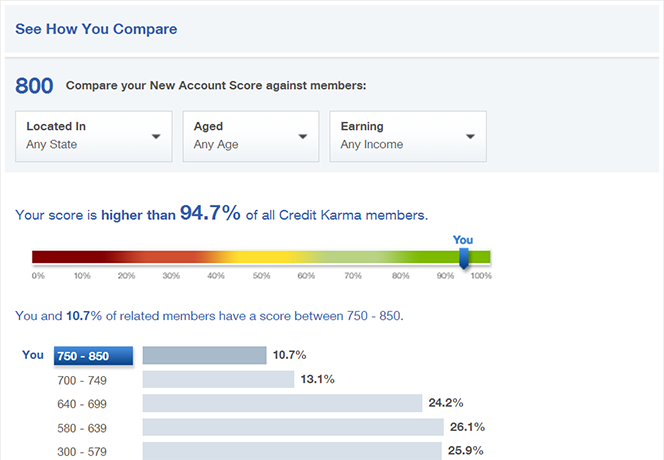 My experience has been that Credit Karma's score has closely matched my FICO score, as provided by myFICO.com, for as long as I was subscribed to myFICO. However, that has not been Mayer's experience. She tells us that when she compared her scores from three free providers against her FICO score from myFico.com, she got quite a spread, "including one score (from CreditKarma) that was a stunning 150 points higher than my FICO".

The only explanation I can come up with for Mayer's discrepancy is that she might have compared her FICO score not with the TransUnion score provided by Credit Karma, but with one of the other three (which are using different ranges). But where I disagree with her is in her suggestion that the different credit scores are equally important, or at least close in significance. That is not the case: FICO is by far the most important credit score, used by the vast majority of lenders.

In any case, it is extremely unlikely that you could have an excellent FICO score and an average other credit score. The two scores may read differently (say, 800 vs. 700), but that would in all probability be caused by a difference in the ranges used by the two score algorithms. No two algorithms are likely to produce identical scores, but, if functioning correctly, they would be showing very similar levels of creditworthiness. If that is not the case, one of them would be using incomplete data.

The Takeaway

So should all of us be rushing to open up a Discover credit card and get our free FICO scores? Well, no, I don't think that is necessary. Yes, you should be monitoring your credit score on a regular basis (I guess, once every three months would be sufficient), but using a free alternative tool like Credit Karma, would also be good enough.

But, you may ask, do we really need to be monitoring our credit scores at all if we are doing all the right things to keep them in good shape? The answer is "yes", we should still be keeping an eye on them, because of errors and, especially, fraud. I've had my score drop, because of a fraudulent charge on a credit card I hadn't used, and hadn't checked on, in years. It took me a couple of months to set things right, but it would be nice if I had noticed the fraudulent charge right away, in which case all I would have had to do to fix the error would have been a phone call to the card issuer.

Image credit: FICO.