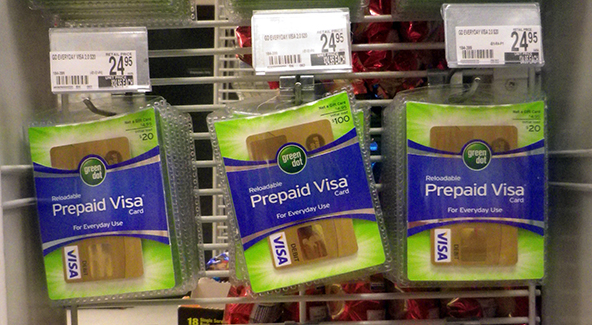 Wells Fargo, U.S. Bancorp, Bank of America and most other major American banks may soon enter the prepaid card market, according to WSJ's Robin Sidel and Aparajita Saha-Bubna. The two reporters are actually pretty much stating the obvious, as credit card companies are feeling increasingly pressured to go outside of their comfort zone to make up for lost revenues from traditional operations.

Already suffering from lower profits from their credit card operations, due to poor economic conditions and tighter regulations in the wake of the implementation of the CARD Act's provisions earlier this year, issuers are now also faced with the prospect of reduced revenue from debit card fees, expected to result from the enactment of the Dodd-Frank Act's provision limiting debit card interchange fees. Prepaid cards are exempt from the new restrictions imposed by both Acts.

Prepaid cards can be described as a hybrid between credit and debit cards. Used as debit cards, prepaid cards draw funds not from the cardholder's checking account, but from an account with the issuer that is funded by the cardholder. Once the funds are used up, the cardholder has the option of re-loading the account.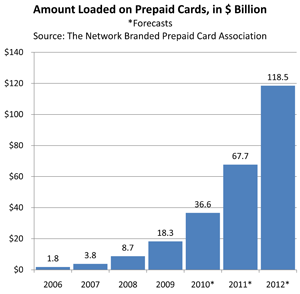 As the WSJ piece points out, big issuers have so far stayed clear of prepaid cards, "because they are usually sold as an alternative to a checking account and are mostly aimed at low-income consumers who don't have bank accounts."

Smaller and largely unknown competitors have meanwhile stepped in and filled the niche. Some of them have been quite successful at that. The biggest prepaid card company, Green Dot Corp., raised $160 million in its IPO this past July and has seen its stock rise by more than 74 percent since then. The second-biggest company in the industry, NetSpend Holdings Inc., did even better, raising $204 million in its own IPO in October.

There is a very good reason for all this activity. Prepaid card use has been growing rapidly and is projected to explode in the coming years. The Network Branded Prepaid Card Association projects that the amount loaded on prepaid cards will reach $118.5 billion in 2012, up from $1.8 billion in 2006. According to the Nelson Report, a payment card industry newsletter, the prepaid card market will reach $200 billion in revenue by 2013.

So it is not surprising that the big issuers are finally warming up to prepaid cards. What is surprising is that it took them so long to even consider them as a viable alternative to their traditional offerings. Hopefully the increased competition will help bring down the various fees, associated with prepaid cards. But then, aren't the big guys entering the market precisely because it offers opportunities for higher profits?

Image credit: Cory Doctorow / Flickr.