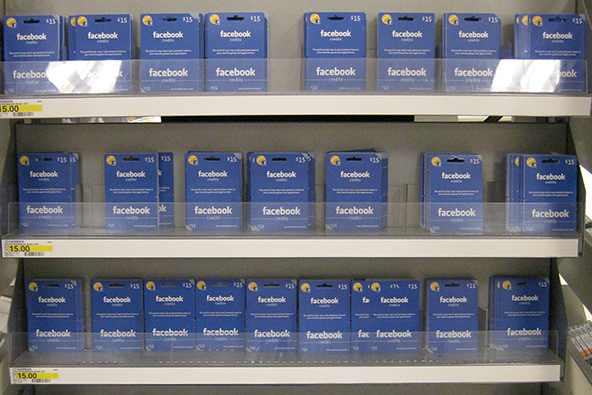 Advertisement accounts for most of Facebook's revenue, 85 percent of it in 2011, according to the social media giant's S-1 filing. However, that share is shrinking, fast. For the previous year — 2010 — the figure was still above 95 percent, but it was down from more than 98 percent in 2009. The only other revenue source, and the one that is eating into the advertising share, is payment fees and their growth has been quite spectacular. In 2009, Facebook collected a meager $13 million in payment fees, but on the following year that total had grown by 715 percent, to $106 million. In 2011, the company took in $557 million in revenue from payment fees, up by 425 percent from the 2010 total.

Facebook is, of course, working hard to keep the growth rate of its payment fee revenue stream high and we have just learned about the social network's latest effort on this front. Facebook has significantly simplified its direct carrier billing payment process for mobile users, the company told us in a blog post. That will make it much easier for users to spend money on Facebook through their phones, which of course is the objective. Let's take a closer look.

Dollars and Facebook Credits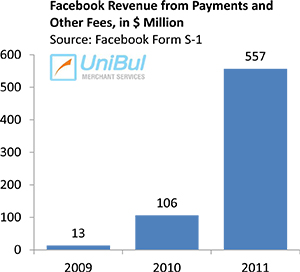 Firstly, let's briefly review Facebook's transaction cycle. Users can buy digital goods on Facebook's domain with Facebook Credits, the company's own virtual currency. These Credits can be purchased, using credit cards or other payment methods, for $0.10 apiece from the "Payments" tab in the user's "Account Settings" or directly from within the game in which the user is planning to use the credits.

Once the payment is completed, the recipient (the game's developer) can redeem the social network's Credits for real money, after first paying Facebook a processing fee of 30 percent of the sales amount. Yes, that is 30 percent! For perspective, a traditional payment processor would charge 2 – 3 percent for a card-not-present transaction. However, it has to be said that, outrageously high as Facebook's 30-percent payment processing fee undoubtedly is, it is fairly standard in this neck of the wood. Apple and Google, for example, charge just as much for purchases completed within their app stores.

Facebook's New Direct Billing Checkout Process

Back in February, Facebook had signed deals with a number of mobile carriers around the world, including AT&T, Verizon and T-Mobile in the U.S. The objective, as stated by Doug Purdy, Facebook's Director of Developer Relations, was to "make it easier for hundreds of millions of people worldwide to purchase apps on their device via operator billing." Operator billing, also known as direct carrier billing, enables consumers to charge the transaction amount of a purchase to their monthly mobile phone bill. Now here is the latest from Facebook on the operator billing issue:
However, this flow for mobile payments can be long, with a total of up to seven steps, including SMS verification. At Mobile World Congress this year we announced an improved mobile payments flow for mobile web apps. Today we are starting to roll it out. This low friction (two steps) carrier billing is now available on the majority of carriers in the US and the UK and will be rolled out to additional operators worldwide.


The payment flow is simple. Users who want to pay for a virtual or digital good in a mobile web app open the payment dialog and confirm their purchase.

And here is the two-step payment flow in question, as shown in Facebook's blog post: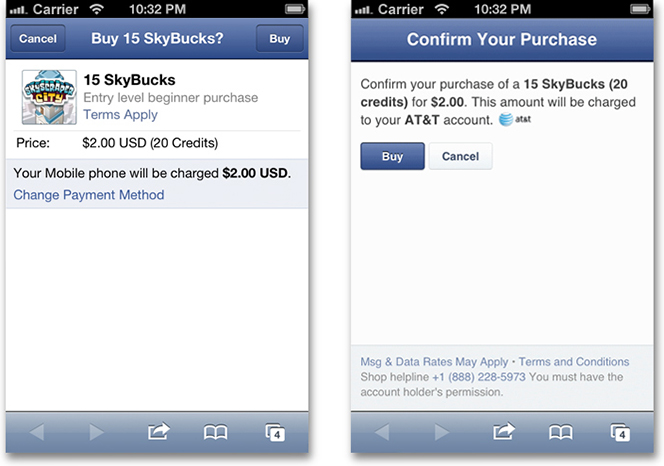 Prior to Facebook's deal with the carriers, direct billing was handled exclusively through third-party providers like BOKU and Zong. Now it seems that the intermediaries have been permanently cut off from Facebook's payment process.

The Takeaway

We don't know how much the carriers are charging Facebook for these directly billed transactions, but removing the intermediaries would have certainly reduced the social network's processing cost. More importantly, however, the new transaction flow makes it much easier for users to complete payments through their phones. And mobile, as we know, is an area of huge importance for Facebook, one in which the social giant has been underperforming and vulnerable.

So the direct billing upgrade is pursuing two separate objectives: giving a boost to Facebook's mobile strategy and keeping high the rate of growth of the social network's payment fee revenue stream. One possible upshot may be that, a few years down the road, the payment fee category becomes Facebook's top revenue contributor. Then again, by then the social network may have figured out the secrets of mobile ads.

Image credit: Wikimedia Commons.