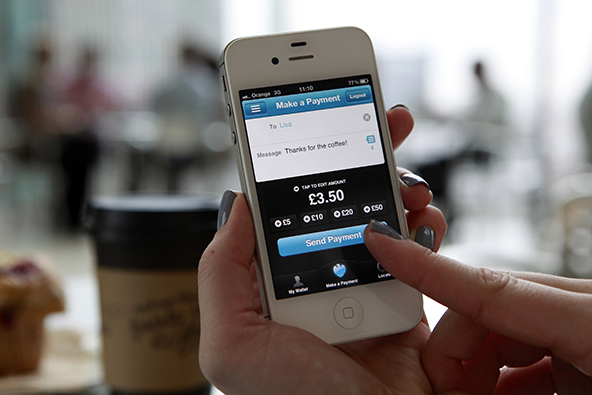 That is the dilemma before consumer-facing businesses, according to the latest Deloitte Consumer Review for the U.K. As smartphone ownership is poised to overtake the combined penetration of PCs and laptops, the authors argue, businesses should respond by adapting their operating models in three major ways:
Develop mobile commerce capabilities through a mobile website or an app.
Put mobile at the center of their advertising strategy.
Implement a mobile payments solution.

In addition to developing new technologies to enable them to deliver their offerings through mobile devices, the authors argue, businesses "need to use smartphone functionalities to innovate and enhance consumer experience". Oh, and all that must be done just as swiftly as possible, for the age of mobile has already arrived and is changing the way business is done at an unprecedented rate. And the evidence is compelling. Let's take a look at it.

The Mobile Explosion

Until the launch of the iPhone in 2007, the report reminds us, mobile data usage was limited to activities on mobile portals, which were managed exclusively by the mobile operators. Then the app revolutionized the mode, placing the smartphone at the center of information and entertainment activities. And consumers have loved it. In the U.K., 72 percent of all consumers aged 16 to 64 now own a smartphone, just below the ratio of PC / laptop ownership.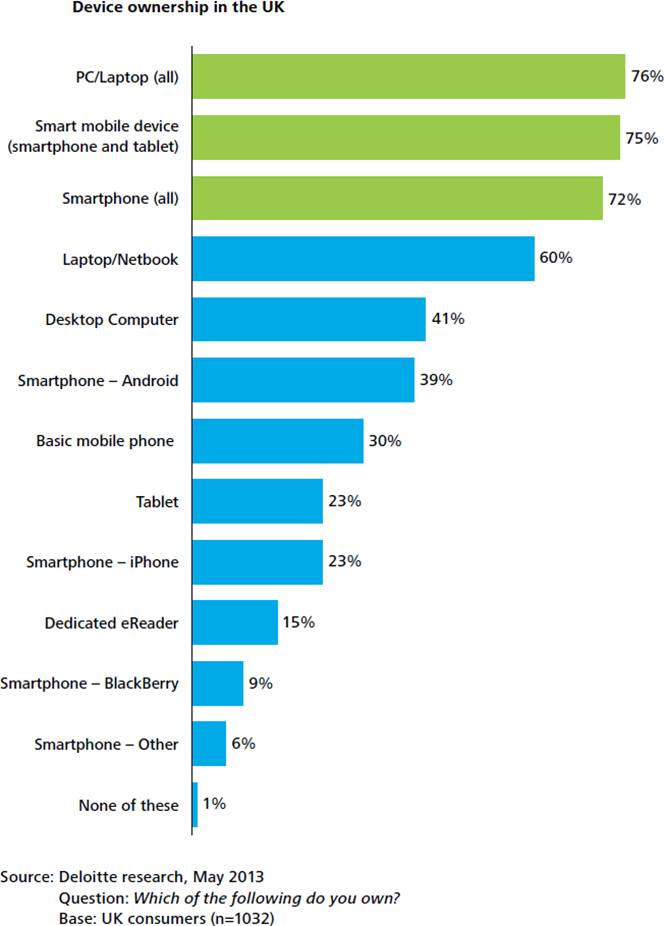 Among consumers aged 25 to 34, smartphone ownership is at 89 percent.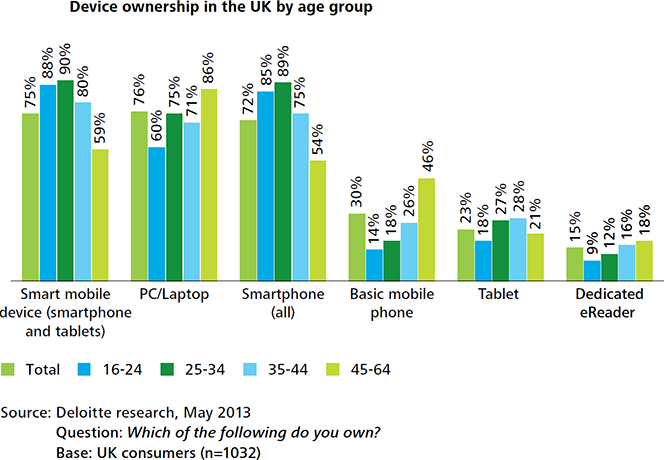 Half of Britons Have Used a Smartphone to Make a Purchase

Buying things with a smartphone is no longer a rarity. On the contrary, 50 percent of British smartphone users have used one to purchase goods and 42 percent have used their devices to buy services. Even more consumers — 57 percent of the total — use their smartphones to check product availability.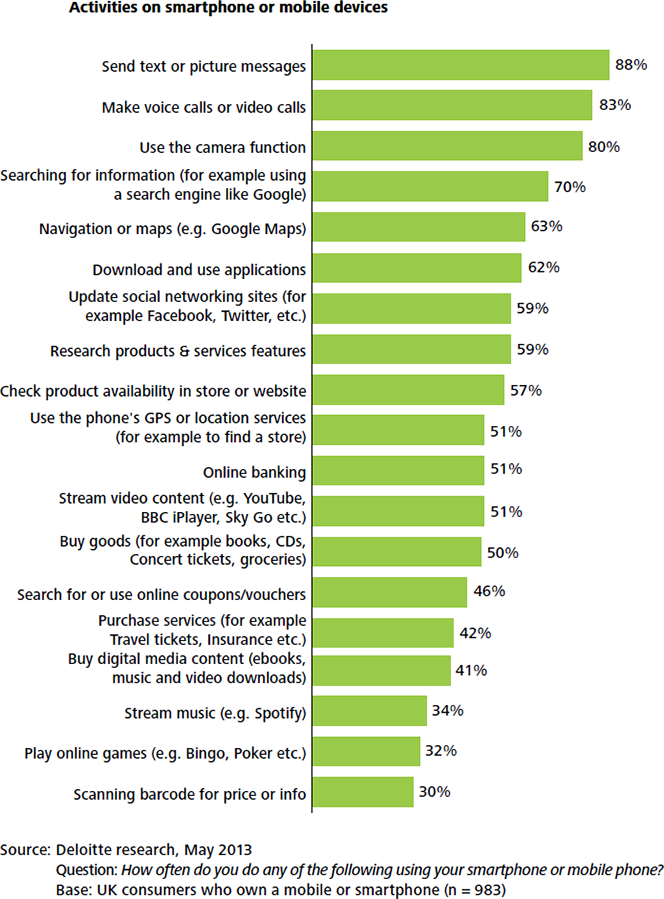 Moreover, ten percent of British consumers are buying goods through their smartphones at least once a week and a quarter of them do so at least once a month.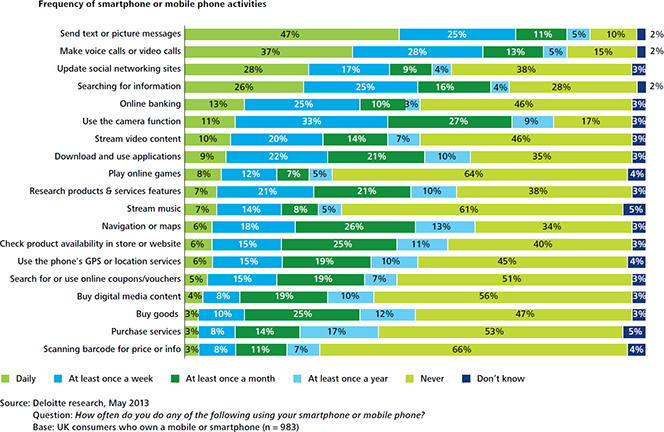 That younger consumers would be far more likely to make purchases through their smartphones than via a website is no surprise. Yet, the lead of the 16 – 24 group over the other age segments is nevertheless huge.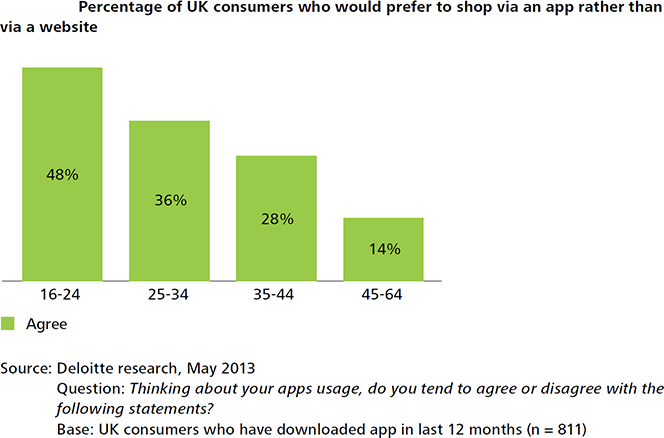 The State of Mobile Payments

Mobile payments still account for a small share of the money transfer market, but the fast smartphone adoption makes their rapid growth inevitable, the report argues. The authors have identified three main mobile payments systems: person-to-person transfers (think mobile PayPal), mobile web payments (the mobile counterpart of e-commerce payments; Deloitte refers to this group as "online wallets", but I think that term should be applied to the next method) and contactless payments (the authors believe that NFC will become the dominant technology in this group). Close to a third — 31 percent — of all British consumers have made a mobile web payment and 12 percent have used a contactless payment technology, but once again, younger consumers are much more active, as can be seen in the chart below.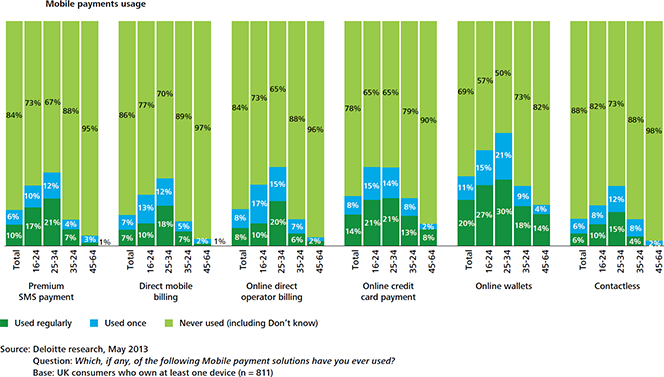 Is NFC Taking Off?

Since January 2012, the number of NFC-enabled devices in the U.K. has increased by 428 percent and more than 3.5 million smartphones now have smart chips, we learn. However, the growth of NFC-enabled card readers has lagged behind, even as the ratio of cards to readers has declined from 390 in 2009 to 181 in 2012 and is expected to fall to 108 by 2015.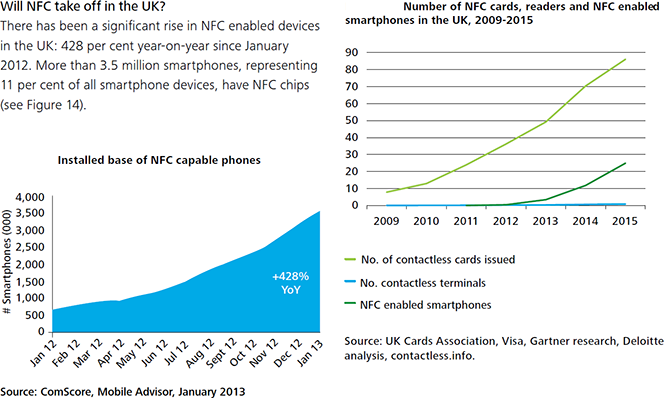 The authors' view is that, despite the still-limited availability of NFC-enabled phones and card readers and Apple's stubborn refusal to incorporate the technology into the iPhone, the NFC "is rapidly emerging as the contactless technology of choice". However, before the new technology can take off, its proponents will need to convince a skeptical public that it is both secure and convenient. As of now, only 19 percent believe in the former and 29 percent in the latter proposition.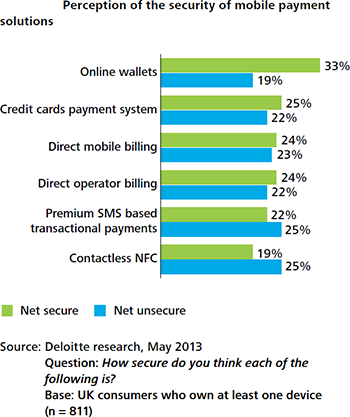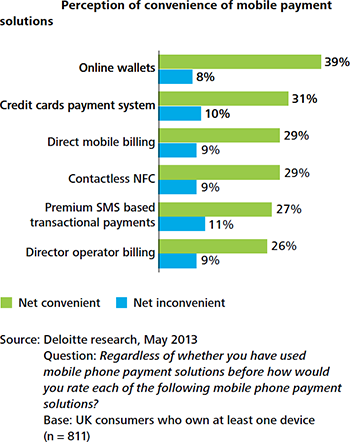 The Takeaway

Deloitte's data confirm once again that mobile payments are quickly entering into the mainstream of payment processing. So it would make perfect sense for businesses to follow the consultants' advice and start building a robust mobile presence: a mobile website or app, a mobile advertisement strategy and an m-payment solution. Of course, the difficult part is actually following through on the implementation of these objectives and this is where Deloitte's report falls short.

Image credit: Barclays.