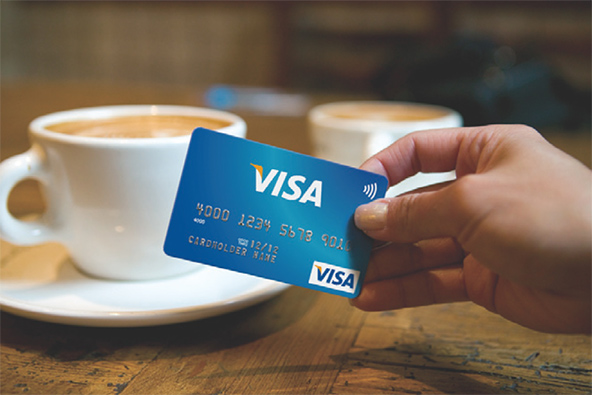 Payments markets in North America and Europe remain the largest non-cash payments markets in the world, but the growth rate in developing markets is more than three times as high, we learn from the latest World Payments Report from Capgemini—a big French consulting company. Together, the mature markets accounted for more than three-quarters of the global non-cash transaction volumes in 2011, we learn. However, whereas the developed world's volumes grew at rates in the mid-single digits, the Central Europe, Middle East, Africa (CEMEA) and Emerging Asia regions each grew by more than a fifth, even as each of these markets displayed unique payments preferences.

The use of credit and debit cards each grew in double digits and these two payment types continue to lead in the non-cash payment segment by quite a margin. Furthermore, the researchers tell us, the credit card transaction volume's growth rate rebounded in 2011 in the U.S., helped by improving economy and consumer sentiment. Mobile payments are growing fast and their growth rate is expected to remain high in the coming years. However, the rise of m-payments may actually help the two leading payment instruments further increase their shares of the market.

Debit cards in particular are set to take advantage of the fast adoption of m-payments and to continue taking more market share away from other payment instruments, such as cash and checks. Moreover, that trend is likely to accelerate as consumers around the world continue to increase their use of mobile payments and choose to settle these transactions through their debit cards (as many of them are already doing). The same is true for credit cards, especially in developed markets. And this is a point that often escapes many observers: mobile payments are not a substitute to traditional payment methods, but are primarily an extension of them. In other words, m-payments are not about to do away with credit cards, but are promoting them. Let's take a look at Capgemini' data.

Emerging Markets Lead the Way

The global volume of non-cash payments continues to grow steadily and the largest gains continue to be taking place in developing markets. Worldwide, non-cash payments volumes increased by 8.8 percent to reach 307 billion transactions in 2011, up from 7.1 percent and 283 billion, respectively, in 2010. Mature markets made up 77 percent of the total volume, but their combined growth rate—6.2 percent—was three times lower than the 18.7-percent growth rate of the developing markets.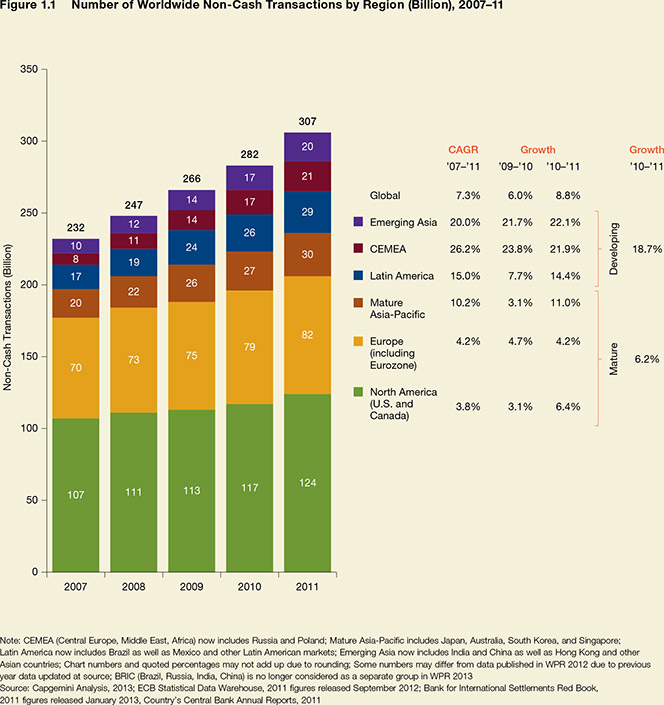 As already noted, much of the growth in the developing world was driven by Emerging Asia and Central Europe, Middle East and Africa (CEMEA). While these regions still have a low share of the global total of non-cash transactions, investments in payments services and infrastructure are helping them to grow significantly, we learn. Emerging Asia, with a 6.5-percent share of the global market, grew by 22.1 percent during 2011. CEMEA, with a slightly higher share of 6.9 percent, grew by 21.9 percent.

Within those regions, China and Ukraine grew by more than 30 percent each in 2011, with payment cards being the fastest growing non-cash instrument, as has been the case in most markets. In Latin America, which accounts for 9.5 percent of the global total, the growth rate was 14.4 percent. The strong performer in this region was, once again, Brazil, which contributed more than 70 percent to the total volume of non-cash transactions in the region for the year, which is mostly due to an increased use of payments cards. The use of debit cards in Brazil in 2011 rose by 23.1 percent and the use of credit cards was up by 16.3 percent.

In the developed markets, mature Asia-Pacific countries recorded the strongest growth—from a market share of 9.8 percent, their transaction volumes grew by 11 percent. Within the region, South Korea was the top performer with a growth rate of 12.2 percent, with payment cards being the primary growth driver. Japan's rate of growth was 11.6 percent, driven to a large degree by the growing popularity of e-wallets, which are based on credit cards.

The North American market has a global market share of 40.4 percent, Capgemini tells us. The number of non-cash transactions increased by 6.6 percent to 114.2 billion in the U.S. and by 4.3 percent to 9.8 billion in Canada.

In Europe, which in 2011 had a 26.8-percent share of total global volume, the picture was much more varied. Growth occurred in non-euro countries such as Poland, where volumes rose by 14.6 percent, the U.K.—7.6 percent—and Denmark—7.6 percent. In the Eurozone, Finland grew by 10 percent, but crisis-stricken Spain and Ireland saw non-cash volumes fall by 1 percent and 0.8 percent, respectively.

The Developed World Is still Ahead

In absolute numbers, developed markets are still leading by a wide margin. At 405 per person, Finland had the highest number of non-cash transactions in 2011, followed by the U.S. at 367. In Finland's case, we have a market exceeding 400 non-cash transactions per person for the first time ever. Here is a chart of the top 10 regions: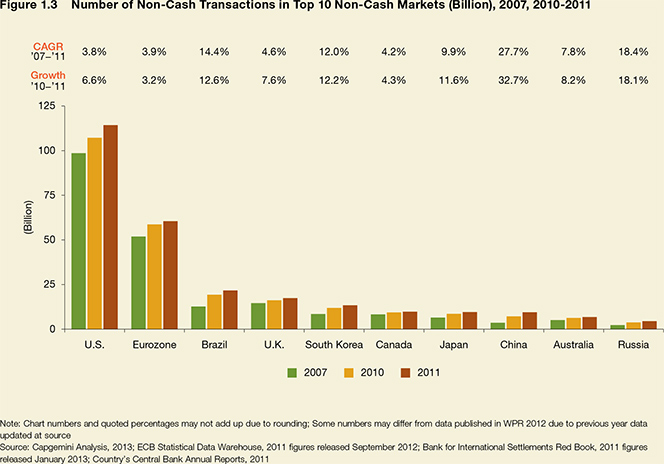 Payment Cards Drive E-Payment Growth

In 2011, payment cards continued to take market share away from every other non-cash instrument, in every region. Credit card transaction volumes grew by 12.3 percent globally, while debit card volumes rose by 15.8 percent. North America is by far the leader in this category, with 65 percent of non-cash transactions made by a payment card, with checks falling to 18 percent, direct debits adding 10 percent and credit transfers—7 percent. In Europe, cards made up 41 percent of non-cash transactions, followed by credit transfers at 27 percent, direct debits at 26 percent and checks at 5 percent. Here is a comparison chart of the non-cash transactions and the mix of payment instruments, by region: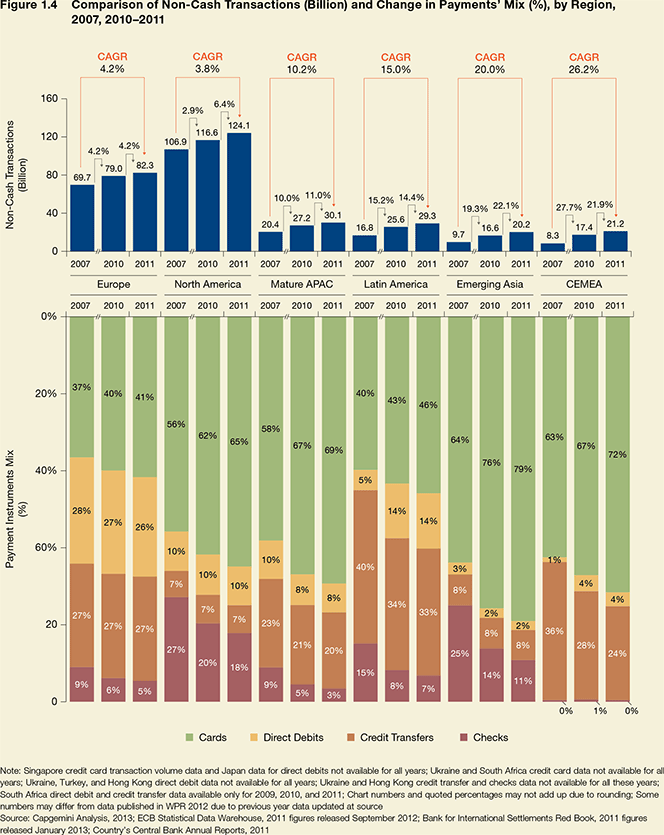 E-Commerce and Mobile Payments Are Growing Fast

As there is no commonly accepted definition of e-payments, the researchers are using e-commerce as a proxy. The authors expect the e-commerce market to grow by 18.1 percent annually from 2010, when the transaction total was 17.9 billion, until 2014, when the estimated total is 34.8 billion and the transaction value—$1,792.4 billion.

The global mobile payments market continues to grow rapidly, powered by innovation and demand, the report tells us. The global m-payments value reached $256 billion in 2012 and is expected to grow three-fold to a total of $796 billion in 2014. P2P mobile payments in developing markets and C2B m-payments in developed markets are the main drivers of growth, we learn. The number of mobile payment users is expected to exceed 212 million globally in 2012—a 32 percent increase over 2011's figure.

Here is a chart showing the expected increases in e-commerce and m-payment transactions between 2010 and 2014: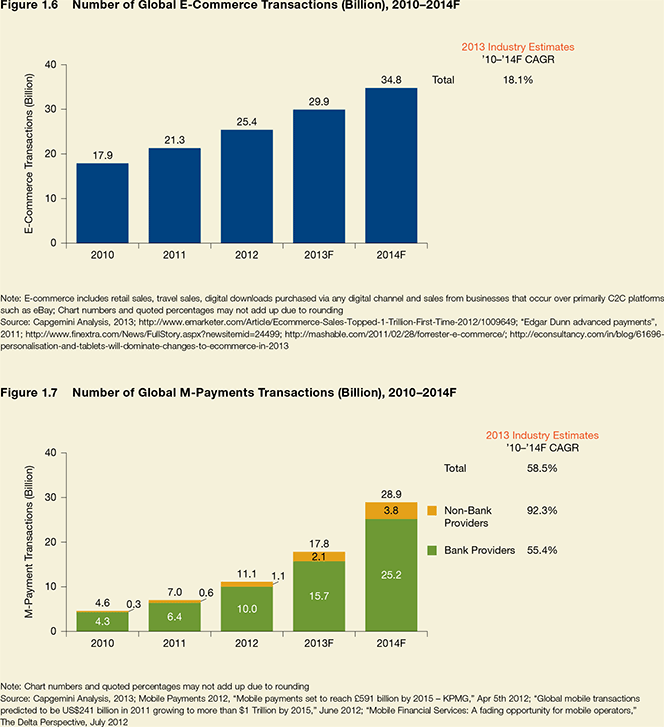 Prepaid Cards Are Growing Incredibly Fast

Along with e- and m-payments, the prepaid cards market is one of the fastest growing non-cash payments markets, with most of the growth coming from the U.S., we learn. The global transaction volumes of open-loop prepaid cards—cards bearing the logo of a payment network like Visa or MasterCard, which can be used anywhere— have grown by more than 20 percent over the past four years and are expected to reach 16.9 billion annually in 2014—an enormous growth.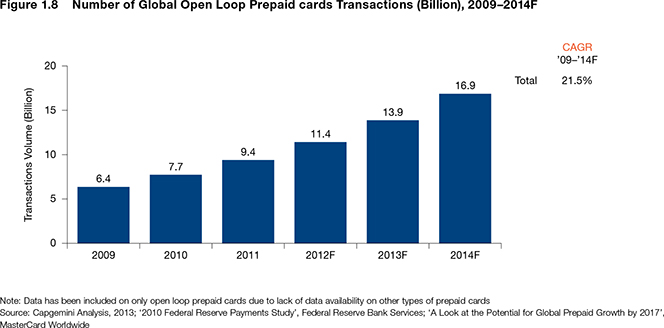 The Takeaway

So cash continues to be squeezed out of the global economy and the Capgemini report shows that the main drivers of the trend are developing countries. Here is the authors' conclusion:
Global non-cash payments transactions continued to accelerate during 2011 and early indicators suggest 2012 will be no different. A slowdown in non-cash transactions in many recession hit economies was in contrast to the world's growth economies, such as China. Several of the developed economies such as the U.S., as it emerges from the financial crisis, and the U.K. and others with strong payment industries are continuing to grow at a faster rate. Going forward, this growth will be further enabled by opportunities in new markets, such as Africa, and in new instruments, including prepaid cards, and e- and m-payments. Hence there is enormous opportunity for those players looking to make investments in the payments market, and provide innovative offerings. There are areas for growth in both emerging and mature markets, as well as in new instruments.


Growth levels in the non-cash payments market have been particularly high in areas where the regulatory challenge is not too onerous, or there is a comparative lack of regulation. The lack of regulation may have helped the growth of such instruments, but increasingly is likely to pose an issue with regards to quality of reported data and risk management. It will be interesting to see how the regulatory environment evolves for these new and innovative instruments.

Image credit: Visa.