Credit card use in the U.S. had been declining for several years, with Americans turning increasingly to debit and prepaid cards, according to Federal Reserve data going to 2009. Now this trend, which began long before the financial crisis struck in 2008, seems to be reversing itself, according to a new report from First Data, the biggest U.S. payment processor (and a UniBul Merchant Services' partner), we learn from CNNMoney.

Growth in credit card usage has been accelerating in the first three quarters of 2011, while the exact opposite has been true for debit cards, according to First Data. The numbers from the first days of the holiday shopping season are also in line with the new trend.

Credit Card Use up, Debit Down

Here are the First Data numbers for the growth in the two biggest types of electronic payments in the first three quarters of this year, on a year-over-year basis:

2011 Quarter

Growth in Purchases Made With:

Debit Cards

Credit Cards

Q1

9.6%

8.2%

Q2

8.3%

9.0%

Q3

5.9%

10.6%

Black Friday credit card sales rose 7.4 percent on a yearly basis, while the debit growth was only 3.4 percent, we are told. Here is what Silvio Tavares, senior vice president at First Data, had to say on the emerging trend:
Credit is back in favor. Consumers have spent the last couple of years de-leveraging and reducing credit card use, but during the past month — and since April [of this year] — they've been using their credit cards more and are starting to return to pre-recession buying habits.

I agree that there are indications that consumer confidence is improving, which is positively affecting credit card use, but there is much more at play here. Issuers have been pushing credit cards very hard for more than a year now, in an effort to drive consumers away from debit cards, which in the wake of the Durbin Amendment have become a much less profitable line of business. Perhaps more importantly, consumer spending and credit-management patterns have been changing very quickly.

Why Credit Card Use Is Growing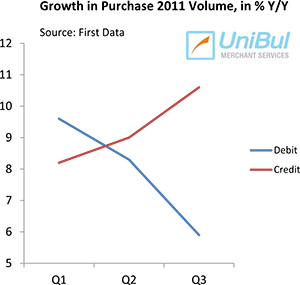 As the CNNMoney piece points out, the number of new credit card offers mailed to Americans has been growing very fast over the past year. Moreover, as we have written on multiple occasions, a good number of these mailings (60 percent in2011 Q1, according to Mintel Comperemedia, a company monitoring direct mail, print and online banner advertising) contain some form of a bonus offer or a rewards program.

Admittedly, most of the best offers go to consumers with high credit scores (720 and above, according to Mintel), but there is anecdotal evidence that offers for Americans with slightly lower credit scores, although not nearly as attractive, have also improved.

At first glance, the First Data numbers seem to be contradicting Federal Reserve data, showing that Americans have been paying down credit card debt in a steady trend that began with the collapse of Lehman Brothers in September of 2008. Since then, the aggregate amount of U.S.?áconsumer credit card debt has decreased by $184 billion, from $973.6 billion to $789.6 billion, a fall of 18.9 percent, and is now at its lowest level in more than seven years.

Moreover, as another Fed report, this one from the Federal Reserve Bank of New York, told us last week, Americans now have 23 percent fewer credit cards than they did in the 2008 Q2 peak and 20 percent lower available credit on their still active accounts, compared to the 2008 Q4 high.

So even as the aggregate values of credit card accounts, available credit and outstanding balances are falling, the numbers for credit card spending and newly available credit are steadily increasing. What are we to make of that?

I think that what all these statistics are telling us is that Americans have become much more responsible with credit than they have been in decades. As the numbers clearly show, more responsible with credit doesn't necessarily mean using less of it. What it does mean is using it within one's means. In October, Americans were repaying their outstanding credit card balances at a rate of 20.91 percent, compared to a historical average in the mid-teens, according to Moody's, a credit ratings agency.

The falling numbers of active accounts I think can also be explained with the Americans' growing determination to exercise a tighter control over their finances. Of course, in the first couple of years following the Lehman collapse, the very high charge-off rates had a much bigger negative impact on the number of open credit card accounts, but defaults are now at historic lows and will go lower still, so their effect is waning.

The Takeaway

The way I read the numbers is that Americans are using their best credit card accounts and closing the ones they don't plan on using. Many consumers with higher credit scores are taking advantage of the very generous offers issuers are currently making available (and some of them are really generous!), while the ones with lower scores are making the best use of what they have. I think these are all positive developments.

Image credit: Timesunion.com.