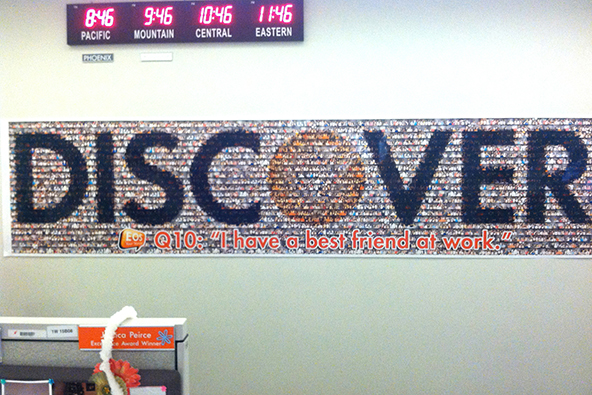 One of the most damaging side effects of the Durbin Amendment to the Dodd-Frank financial overhaul legislation was the virtual disappearance over the past couple of years of the free checking account, which most banks used to offer as a matter of course. The big reduction of the debit interchange fees — the fees collected by card issuers for every transaction involving one of their cards — meant that banks had to find ways to make up for the lost revenue and an obvious one turned out to be the reintroduction of the checking account fee.

Well, it seems as if a new trend has now emerged where non-traditional bank service providers are offering free bank accounts. For the past year or so I've received several letters from American Express, urging me to open up a "high-yield savings account" with them and promising no fees, no minimum balance and a 0.90 percent interest rate on my deposits (for comparison, Bankrate.com tells me that the current national average rate for savings accounts is 0.49 percent). Then this morning, The Wall Street Journal's Robin Sidel reports of other card issuers — Discover and Green Dot — eager to exploit the traditional bank account providers' weakness and gain a foothold in the suddenly competitive market. So let's take a look at the latest developments.

The Post-Durbin State of Consumer Banking

The WSJ's Sidel is giving us a good summary of the state of the bank account market, which AmEx, Discover and other card issuers are now entering:
Discover's new push into checking accounts comes at a time when traditional banks are having a tough time managing the costs that are associated with maintaining them. New regulations have halved the revenue that banks collect from merchants each time a customer uses a debit card to make a purchase. Those fees had been used to offset the cost of other services, such as checking.


As a result, banks have raised checking-account fees and are making it tougher for customers to avoid paying those monthly charges. The average monthly fee on noninterest-bearing checking accounts is up 25% to a record $5.48, according to a survey released last fall from data provider Bankrate Inc… The survey also found that U.S. bank customers must keep an average minimum balance of $723 in checking accounts, an increase of 23%.


Most banks also have eliminated rewards points that customers receive for making purchases with debit cards that are linked to checking accounts.

Now, in case you are wondering why the likes of Discover and AmEx can afford to launch fee-free bank accounts, whereas rival card issuers like Bank of America and Citi cannot, the answer is that the interchange reform affected only debit card transactions. As American Express issues no debit cards and Discover issues very few of them (or at least that was the case until now), the two companies' revenue streams were largely unaffected, even as their competitors suffered huge losses. And sure enough, AmEx and Discover quickly moved to capitalize on their newly-gained competitive advantage by aggressively entering their rivals' territory. More importantly, their offerings are really good.

Discovers' Checking Account

Earlier this week, Discover announced the limited launch of its Discover Cashback Checking account. Initially, the new accounts will be available to a "limited number of Discover cardmembers", but they will be offered "to all cardmembers gradually throughout the year" and to everyone else in 2014. And this is a full-featured checking account, not an online-only version, which is to say that it comes complete with a debit card and paper checks. Of course, it also comes with a mobile banking app, which, among other things, lets you make mobile check deposits and mobile bill payments.

Discover's checking account holders will be charged no monthly fees, will be required to keep no minimum balances and will be issued free checks and replacement cards. There will be no usage fees at 415,000 ATMs in the U.S. (presumably the ATMs in question belong to the PULSE network, which is part of Discover Financial Services).

But I think that the most generous feature of Discover's new checking account is the 10-percent cashback on all debit card purchases, online bill payments and check payments. Yes, that is 10 percent! The highest cashback rate that I am aware of at present is 3 percent. So the message is clear: Discover will do whatever it takes to ensure that its latest offering is a success. And I, for one, am sold on it. As a Discover cardholder I will open up one of these checking accounts as soon as it is made available to me.

The Takeaway

The WSJ's Sidel tells us of a couple of other checking account launches by non-traditional players: one that took place six weeks ago and one that is expected to occur in the very near future. The former belongs to Green Dot — the country's biggest prepaid card issuer — and seems to be a very decent offering, but its fee structure seems unnecessarily complex and a website glitch is preventing me from reviewing it in detail. The other belongs to AmEx, which is said to launch a free checking account (in addition to the aforementioned free savings account), to go along with the company's excellent Bluebird prepaid card, which is issued jointly with retail giant Wal-Mart. Details are not yet known, Sidel reports, but, if Bluebird can be any guide, I think it is quite safe to assume that AmEx's checking account will be fee-free. Still, for the time being at least, it is Discover that has taken the lead with a truly good product. It will be interesting to see how the Bank of Americas and JPMorgan Chases of the world will respond.

Image credit: Apixture.com.