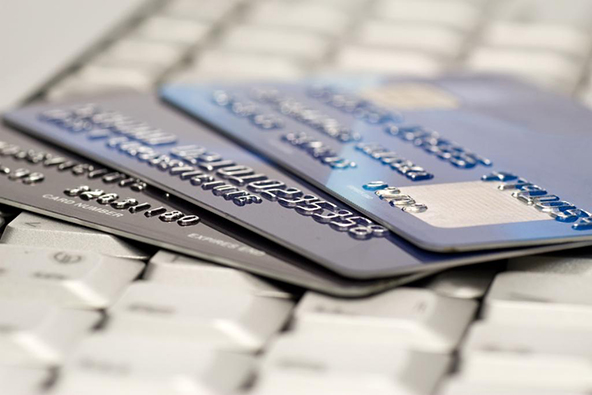 The aggregate delinquency rate on U.S. consumer loans rose slightly in the first quarter of this year, according to data from the American Bankers Association (registration needed). Americans were late making timely payments on their credit card, home equity and auto loans, but the delinquency rate actually improved in most other categories.

Credit Card Delinquencies Rise to 3.4%

The credit card delinquency rate rose by 0.12 percent to 3.40 percent in the first three months of this year, compared to the last quarter of 2010, according to the report. This is still well below the 3.95 percent average of the past 15 years and lower than the 3.88 percent rate measured a year ago.

ABA defines delinquencies as loans on which payments are overdue by 30 days or more. Credit card companies use this measure as an important indicator of future defaults.

How Delinquencies Are Measured

There are several different methodologies in use today for measuring credit card delinquencies, most of which track individual accounts, as opposed to consumer payment behavior across all of his or her active accounts.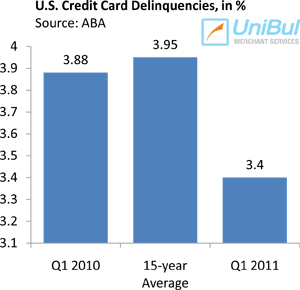 For example, delinquencies are often broken down into two sub-categories: early-stage (payments late by 30 – 59 days) and late-stage (payments late by 60 days or more). The most current data we have on these two categories come from Fitch, a credit ratings agency. According to Fitch, the late-stage delinquency rate fell in May for the 16th consecutive month, to 2.75 percent from 2.93 percent in April, while the early-stage delinquency rate decreased by 0.27 percent to 3.54 percent for the period.

TransUnion, a credit reporting agency, defines the delinquency rate as the ratio of consumers late on a payment to any one of their credit cards. Moreover, the credit bureau considers a payment to be late if it is 90 days or more past due. According to TransUnion's latest report, the U.S. credit card delinquency rate decreased to 0.74 percent in the first three months of this year, down from 0.82 percent in the previous quarter and nearly 33 percent below the level measured in the same period a year ago. It is the lowest delinquency rate since the third quarter of 1996 (0.76 percent), the report says.

The Takeaway

By whatever measure, today's credit card delinquency rates are very low by historic standards. Having spiked in the months following the financial meltdown of September 2008, delinquencies have now reached a record low on the opposite end of the spectrum.

The upward tick on ABA's delinquency chart may be just a one-off aberration from a trend that is still ongoing or it may be signaling its end. We don't know yet. We do know that credit is once again becoming more readily accessible, especially to Americans with higher credit scores, but also to consumers with average scores. New credit card offers are now both much more plentiful and much more appealing than at any time since the crisis began, according to the latest data from Mintel Comperemedia.

As a result, as we reported yesterday, in March of this year Americans' credit card lines had expanded by 35 percent on aggregate, compared to March of 2010, according to Equifax, another credit reporting agency. Perhaps not unrelatedly, credit card spending in May was also up – by 6.6 percent compared to the same month a year ago – according to First Data, a big payment processor. So far higher spending has not translated into higher delinquencies and defaults, but this may happen in the not-too-distant future.

Image credit: Marketresearchreports.com.