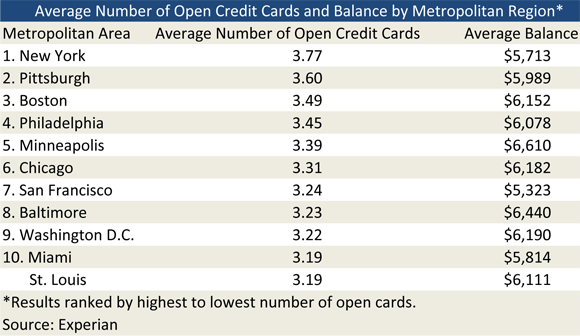 New Yorkers have the most credit cards in the nation – 3.77 per resident, on average, according to a new study by Experian, one of the three largest U.S. credit reporting agencies. However, the number of open credit cards is not related to the total outstanding debt, the data show. For example, New Yorkers owe on credit cards $1,040 less than the residents of the most indebted metropolitan U.S. region – Atlanta. The average monthly balance of New Yorkers is $5,713, compared to $6,753 for Atlanta residents, who are ranked 15th on the number-of-open-cards list.

The data reveal some substantial regional differences in Americans' credit card debt distribution. Residents of San Francisco and Houston owe the least, with outstanding credit card balances of $5,323 and $5,328, respectively. By comparison, the average Atlantan owes more than 25 percent more than that.

Overall, Americans are now opening 26 percent fewer credit cards than they were three years ago, before the financial crisis hit, according to the study. There is no regional breakdown available for this data segment, but it is well known that, in the aftermath of the financial meltdown, issuers tightened their credit standards across the nation. Credit card offers mailed in 2009 plunged 66 percent from their 2008 level, according to data from Mintel Comperemedia, which specializes in tracking direct mail and print advertising in the U.S. and Canada. Moreover, the available offers were much less attractive. For example, more than a third of credit card offers sent in 2009 (36 percent) featured an annual fee, compared to just one in five (20 percent) in 2008, according to the Mintel study. Moreover, new offers were only available to consumers with excellent credit history. Even when offers began to increase in number in the first quarter of 2010, their quality did not improve. Almost two-thirds (65 percent) of the total mailed offers for the first quarter of 2010 carried an introductory purchase APR versus 58 percent in Q4 2009, according to data from Synovate, a market research company.

The worsening quality of credit card offers and the decreased number of their recipients coincided with a steady consumer drive to cut back on debt. Since September 2008, U.S. consumers have reduced their outstanding credit card balances by $144.9 billion, or 14.85 percent, according to data from the Federal Reserve. The drop in the overall U.S. credit card debt since September 2008 translates into eliminating $2,683 of the average household's outstanding credit card balance during that period, either through paying down the debt or charging it off as uncollectible by the lender.

Unfortunately, the Fed's report doesn't provide regional data, so we don't know which metro area is the debt-cutting leader. Still, it is good news that Americans are making a conscious effort to pay down their debt. Hopefully, the trend doesn't reverse itself, once the economy starts improving and the unemployment goes down.