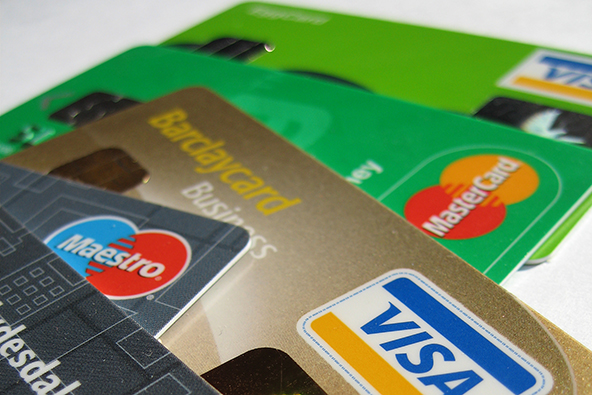 Consumer credit card debt has fallen in every single U.S. state for the year to November, we learn from the latest data released by CreditKarma.com, a provider of free credit scores. Mortgage and home equity debt has also decreased since January and auto loans is the only category that has seen an increase.

The U.S. Credit Score Climate Report also tells us that, even as Americans continue to reduce their outstanding credit card balances, their credit scores are also falling. Amazingly, the state whose residents have slashed the biggest chunk out of their credit card debt total in 2011, also leads the nation in the unenviable category of lowest average consumer credit score. Let's take a closer look at the data.

U.S. Consumer Credit Card Debt down 10% in 2011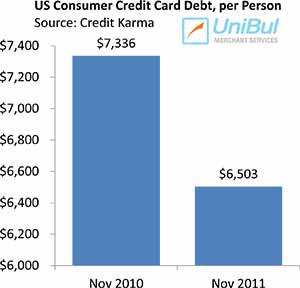 Credit Karma tells us that in November Americans with at least one account owed credit card companies $6,503 on average. That is 1.47 percent down from October's average of $6,600 and 10 percent lower than the figure for January, we learn.

In 2011 consumer credit card debt has declined in every single state, falling the fastest in the following ones:
Mississippi — down 16 percent to $5,362.
Alabama — down 14 percent to $5,750.
Kentucky, New Hampshire, Rhode Island and West Virginia — down 13 percent to $6,151, $7,464, $6,090 and $5,956 respectively.

The pattern is likely to change in December, says Ken Lin, CEO of CreditKarma.com:
While it's a good sign that credit card debt is down since the beginning of the year, this trend is not likely to continue as the holiday season progresses and more consumers put their purchases on their credit cards.

The changes since January in the non-revolving debt categories were reported as follows:
Home mortgage debt has fallen by three percent to $175,070.
Home equity debt is also down by three percent to $47,911.
Auto loans are up by four percent to $15,370.

Credit Karma has not released data for student loans.

Average Credit Score down by 5 Points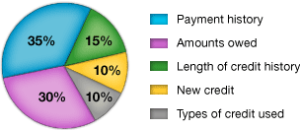 Given that in 2011 we have seen a double-digit decline in credit card debt and among the non-revolving categories only the smallest one has registered an increase, we should expect that the average credit score would have improved, right? Well, not according to Credit Karma. Although the November credit score — 661 — was unchanged from the previous month, for the year it was down by five points. How has that happened?

Well, as we have already explained, consumer credit scores are made up of five major components and the overall amount of outstanding debt accounts for only 30 percent of the final number.

The biggest factor, accounting for 35 percent of each credit score, turns out to be the payment history, which tracks the consistency of making payments on time. Even one late payment is enough to put a dent into your credit score and then it remains on your file for seven years. So while it is very easy to hurt your credit score, recovering it is a slow, arduous process.

The Takeaway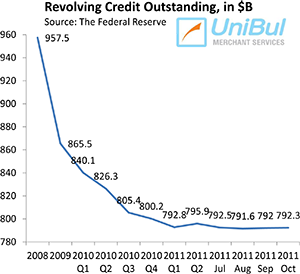 In the months immediately following the financial meltdown of September 2008, more Americans than ever before were late making their credit card payments and the same was true for home mortgages. Charge-offs in both categories shot up to record-highs. Even though the total amount of credit card debt began to fall in the aftermath of Lehman's collapse and has fallen by 18.6 percent since then, the damage to consumer credit scores was already done and as we are seeing, consumers are still suffering the consequences and will do so for years to come.

What can you do about it? If you have a delinquency on your file, you can do nothing to remove it any earlier than seven years after the event took place. If that period has expired and you still see the item on your credit report, contact the credit agencies and request that they remove it. By law they have 30 days to comply with your request.

If you have a charge-off on your file, contact your creditor and offer to pay it off. Lenders are typically willing to settle charged-off accounts for amounts as low as 50 percent or less of what was originally owed (depending on how much time has passed since the charge-off took place). Once the account is paid off, make sure it is accurately reported in your credit report. It will still be classified as a derogatory item, but potential lenders view it much more favorably than they do unsettled charge-offs.

At the same time, be sure to make all of your payments on time. Even missed payments for small amounts, like a cell phone or a gas bill, can do a big damage. It is going to take time, but eventually you will begin to see your credit score go up and be able to take on new credit again.

Image credit: La-uno.com.