Our Northern neighbors have been following a quite different path in managing consumer debt in the post-Lehman world. While Americans have been systematically reducing their outstanding overall and (especially) credit card debt since September 2008, Canadians have been increasing it. The trend has continued in the first quarter of this year, according to the latest data released by TransUnion, a credit reporting agency.

Overall Debt Up 4.5% in Canada

The headline news from TransUnion's report is that total debt per Canadian consumer (excluding mortgage) rose by 4.5 percent in the first quarter of 2011 on a year-over-year basis, from $24,497 to $25,597.

TransUnion tells us that consumer debt has risen in all Canadian provinces. Here are the data:
Quebec and Newfoundland & Labrador registered the largest debt increases, with total per-consumer debt rising by 7.8 percent year over year in both provinces. Quebec's total debt stood at $18,025 per consumer in Q1 2011, Newfoundland's was $23,372.
British Columbia had the lowest debt increase (0.9 percent), but the largest overall debt volume ($36,649). New Brunswick had the second-lowest increase (3.4 percent) and below-average overall debt volume. $21,932.
Credit Card Debt Level Unchanged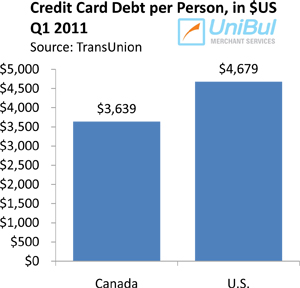 Canadians did manage to reduce their credit card debt in Q1 2011 by 4 percent on a quarter-over-quarter basis, however that only brought it down to its Q1 2010 level. Here is what TransUnion's data tell us:
The average Canadian cardholder's combined outstanding balances across all active credit cards were down 4 percent on a quarter-over-quarter basis, which was the second quarterly decline in a row.
Credit card debt stood at $3,539 per consumer in the first quarter, down from $3,688 in the previous one, but virtually unchanged from the $3,564 level measured a year ago.
The Canadian credit card delinquency rate (measured by TransUnion as the ratio of credit card payments late by 90 days or more) was 0.38 percent in the first quarter of 2011, slightly up from the 0.36 percent level at the end of last year and 0.04 higher than the ratio from a year ago — 0.34 percent.
The Takeaway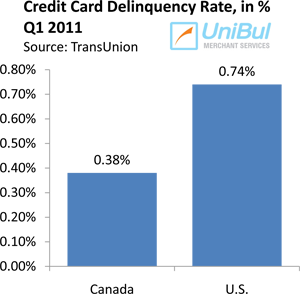 Canadians continue piling up debt, only not as quickly as they used to. In the words of Thomas Higgins, TransUnion's vice president of analytics and decisioning:
Our first quarter data shows a continued increase in the total debt per consumer, although the trend still remains modest compared to the double digit, pre-recession levels. The post-Christmas seasonal pattern remained intact, with a quarterly drop in credit card balances per consumer and a slight increase in delinquency rates compared to the fourth quarter of 2010.

It is really quite remarkable to see how differently the financial meltdown has affected consumer debt management patterns in Canada and the U.S. It should be said, however, that the Great Recession was not as tough on Canadians as it was on Americans. The unemployment rate north of the border was lower throughout the downturn and still is (7.6 percent vs. 9.0 percent). Perhaps Canadians were not scared enough to reduce debt?

Image credit: Thegridto.com.