It was bound to happen and many of us expected it to happen sooner rather than later, so when the Federal Reserve announced that U.S. consumer credit card debt grew in December, after 27 consecutive months of decline, it almost came as a relief. It is huge news, seen by many as a signal that consumers are beginning to feel more confident about the economy, even as unemployment is still way too high by historical standards. But let's pause for a second and remind ourselves just how much credit card debt was wiped out in the U.S. since the financial meltdown.

Credit Card Debt Reduction since the Collapse of Lehman Brothers

From its peak in August 2008, the month before the collapse of Lehman Brothers, until November of 2010, outstanding revolving credit in the U.S., comprised mostly of credit card balances declined by $177.1 billion, from $973.6 billion to $ 796.5 billion, a drop of 18.2 percent. During the same period the average U.S. family with outstanding credit card debt — 54 million by the Fed's count — had reduced it by $3,280, according to the Fed.

December Debt Increase

In December, however, credit card balances expanded by 3.5 percent, or $2.3 billion, lifting the total to $800.5 billion.

Non-revolving credit, a category that includes auto loans, student loans and loans for mobile homes, boats and trailers, but not home mortgages and other real estate-secured loans, had been increasing for several months prior to the latest Fed report. It rose again in December, for a fourth consecutive month, by 2.8 percent, reaching $1.61 trillion, up $3.8 billion from November.

Overall outstanding consumer credit, the sum of revolving and non-revolving credit, rose by $6.1 billion, or 3 percent, to 2.41 trillion in December after climbing by a revised $2 billion (up from the originally reported $1.3 billion figure) in November. It was also its fifth consecutive month of increase.

2010 Consumer Debt Summary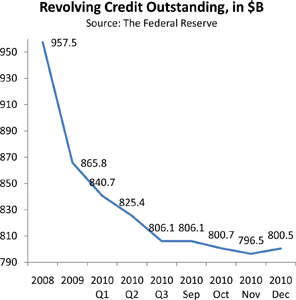 Even with the December increase, in 2010 American consumers reduced their credit card debt by $65.3 billion, or 7.5 percent, following a drop of $91.7 billion, or 9.6 percent, in 2009. Overall indebtedness also decreased for the year by $39 billion, or 1.6 percent, after a much bigger drop of $111.7 billion, or 4.4 percent, in 2009.

Until the latest financial crisis struck, there had only been one instance, since the Federal Reserve began tracking U.S. consumer indebtedness in 1943, when Americans had reduced their debt burden on a year-to-year basis. In 1991 U.S. consumer debt fell by 1.2 percent.

Credit Card Takeaway

The economy is growing again and consumers are regaining their confidence and spending more freely than in a long time. On the other hand, at 9 percent, the unemployment rate is still about double its pre-crisis level. Moreover, credit is still tight, leaving all but the highest-credit-score consumers cut off from fresh credit. Yet, after an 18.2 percent drop in their outstanding balances, cardholders now have plenty of available credit on their existing cards. So, as long as the recovery continues and the unemployment rate doesn't worsen, credit card balances and overall indebtedness are likely to keep growing.