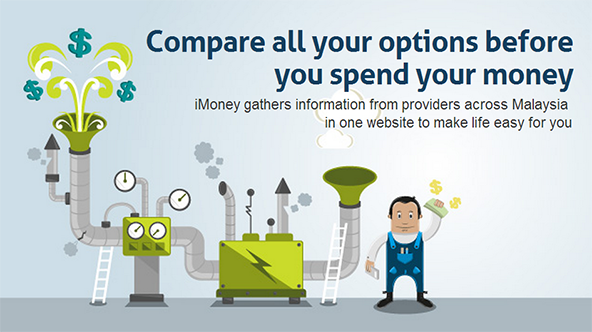 Ventureburn's Jacques Coetzee directs my attention to iMoney — a Malaysian bank comparison website. While there is nothing extraordinary with the service itself — there are dozens of websites comparing financial services in the U.S. alone — I was nevertheless impressed with how well iMoney is doing it. And apparently, I am not the only one impressed with the start-up, as evidenced by the fact that iMoney has just received $500,000 in funding from a local venture capital group, as reported by Coetzee.

I especially liked an infographic which the iMoney guys had created to visualize the credit card transaction process and thought I'd share it with you — it is truly well done. I do have a quibble with the authors' advice to turn to a debt counseling agency for help if you are in debt — either way you would have to pay off your debts, but if a debt counselor is "helping" you, you would have to pay his fees as well — but other than that the infographic is right on the money.

The Anatomy of a Credit Card Transaction

Looking at the infographic, the most striking thing to me is that the credit card transaction process in South Asia is precisely the same as the one established in the U.S., the U.K. or France. And again, the authors have done a really nice job at simplifying the process and at avoiding the use of industry jargon, something I always find extremely difficult, even when writing specifically for non-industry readers. For example, there is not a single mention of "transaction authorization", "payment gateway" or an "acquiring bank".

If there is something that could be improved on, it is the section that breaks down the sources of income for the financial institutions that participate in the processing of credit card transactions. The authors should have offered two separate lists: one for the card issuing banks and another for the merchant banks. As it is, they are giving us a single list for "banks" and "credit card companies", which is way too general of a category. The issue with the way they've done it is that viewers can't see who is charging what fees. For example, it should have been stressed that interest on outstanding balances is only charged by the card issuers, whereas transaction fees are only charged by the merchant banks (the acquirers). And the "fees" category should have been broken down into sub-categories. Still, it is an amazing infographic and here it is:


Image credit: iMoney.