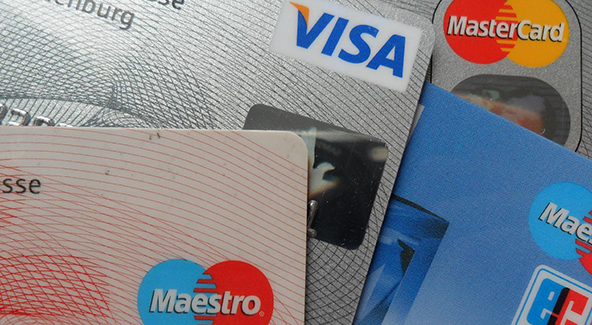 The average interest rate on existing credit cards reached 14.7 percent in the second quarter, up from 13.1 percent a year earlier, according to a study by Synovate, a market research firm owned by the Aegis Group. It is the highest level since 2001. The interest rate increase looks even more dramatic when you measure the spread between the prime rate – the benchmark against which card rates are set – and average credit card rates. Currently, the gap is 11.45 percent, the largest in at least two decades, according to Synovate.

Why are credit card interest rates at record highs at a time when other rates are at record lows? Well, for the WSJ at least, the answer is fairly straightforward:
It was among our safest predictions that reduced credit to consumers would result when the Federal Reserve announced new credit-card rules in 2008, and then Congress followed up with the Credit Card Accountability, Responsibility and Disclosure (CARD) Act of 2009. By limiting the ability of banks to increase rates on delinquent borrowers and to charge fees on unprofitable customers, Washington encouraged card issuers to be more selective in advancing credit and to demand higher rates when they do.


It's a simple equation. If politicians make it more difficult and expensive for banks to lend, customers will find it more difficult and expensive to borrow.

Well, there is truth in that, but the equation is far from simple. Yes, the CARD Act is costing credit card companies a lot of money by preventing them from charging some fees, while placing caps on others and restricting their ability to increase interest rates. But there is another factor driving up interest rates and it is the economic crisis.

Credit card defaults and late payments were at record highs throughout 2009 and are still above historical averages today. Issuers simply couldn't afford to offer credit to anyone but the safest borrowers and credit card offers plunged.

The trend is beginning to reverse, however, and the number of new credit card offers in the first quarter was up by 29 percent over the same period in 2009, according to Synovate. This doesn't mean that interest rates are falling, though. Most credit card offers now come with variable interest rates, which add a certain percentage to the prime rate.

Now, the prime rate can't go much lower and will eventually start rising as the economy recovers, pushing up interest rates on variable cards along with it. Does that mean that consumers are condemned to high credit card interest rates for the foreseeable future? Well, that would depend largely on the pace of recovery. The bank card industry is a very competitive one and, once it starts to look as if things are getting back to normal, credit card offers will become more attractive and interest rates will go down.

Image credit: Geld-wechseln.net.