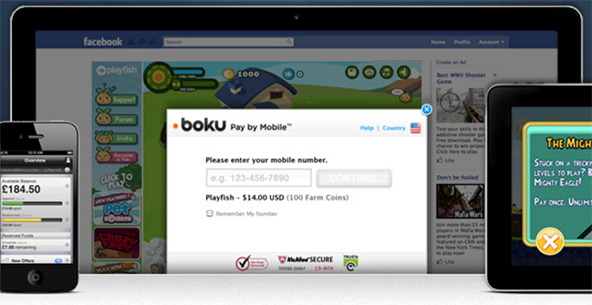 In an interesting development, two of the highest-profile mobile payments start-ups in the U.S. are teaming up to provide Verizon customers with direct billing payment capabilities, the companies said in a press release.

The two start-ups are San Jose-based BilltoMobile and San Francisco based BOKU. Under the terms of the agreement, BOKU merchants and customers will get access to the BilltoMobile Direct Mobile Billing (DMB) payment service, which is already running on the Verizon Wireless billing system. In other words, BOKU's users will be connecting with Verizon through BilltoMobile.

The reason this is an interesting development is that BOKU is already connected with Verizon's billing system and Verizon customers making BOKU payments see the charges on their monthly phone bills (a practice known as direct billing). Both BOKU and BilltoMobile provide mobile payment acceptance services to U.S. merchants.

The difference between the two companies lies in the way payments are processed. BOKU uses premium SMS messages (a.k.a. short codes) to bill their transactions (such as the 90999 code used for donations to the Red Cross for the victims of the Haiti earthquake). The problem with short codes is that they are expensive.

BilltoMobile's system is designed to minimize the processing costs. The start-up claims to be "the only mobile payments company that has integrated its payment gateway directly with both Verizon Wireless' and AT&T's billing platforms." In essence, the gateway allows BilltoMobile to evade the high costs associated with short code messages.

In the e-commerce world in general, and in the mobile commerce (m-commerce) in particular, payment gateway is a service that connects the website on which a transaction takes place with the processing bank and facilitates the exchange of transaction information between them. So BilltoMobile's gateway would be the m-commerce equivalent of Authorize.Net.

Why BOKU has decided to use a third party, rather than spend some of the money it raised on developing its own gateway is anybody's guess. According to VentureBeat, the start-up has raised more than $38 million to date, so money was probably not the issue.

Recently BOKU was rumored to be at the center of a bidding war involving Apple and Google, both of whom have well-known mobile payment ambitions. It was said that the start-up could end up costing Apple anywhere between $250-450 million, provided Steve Jobs and company managed to beat out their rival. At the end nothing happened.

BilltoMobile, for its part, was spun off Danal, a South Korea-based company specializing in the provision of digital contents and mobile payment services, in 2007. Then last year Danal bought it back for close to $100 million.

Initially, user spending will be limited to $25 per month, which is fairly standard for direct billing-type of payment services. It will be interesting to see whether spending limits will be gradually raised, as consumers become more accustomed to direct billing, or the carriers will remain cautious with what in effect is a credit line.

Image credit: BOKU.