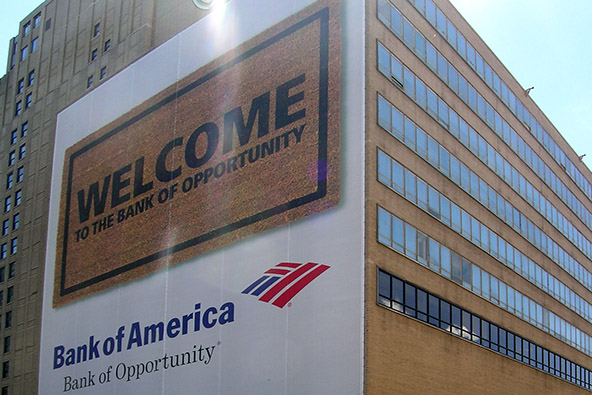 JPMorgan Chase, Bank of America and Wells Fargo are the latest financial institutions to launch a person-to-person (P2P) payment service in a direct challenge to PayPal's dominance of this market. The WSJ tells us that the new venture, called clearXchange, will be open to other banks to join later.

How clearXchange Works

The joint venture will enable consumers to use their checking accounts for sending money into another person's checking account by providing their email address or cell phone number. The recipient's checking account can be at another bank. Currently, such transfers, if supported, require that the sender enters the recipient's routing and account numbers.

clearXchange customers will not have to create a new account to use the service, however it has not yet been decided whether they will be charged any fees for the money transfers.

Why Are Banks Doing This?

I think that the biggest reason why three of the largest U.S. banks have now decided to integrate their payment platforms and simplify money transfers among each other's customers is that none of them want to be perceived as being out of touch with current developments in payment processing.

Of course, there is the added incentive that the P2P payments market is huge and growing. The WSJ article cites a report by the Aite Group, a consultancy, according to which last year Americans have made $865 billion of P2P payments through 11 billion transactions.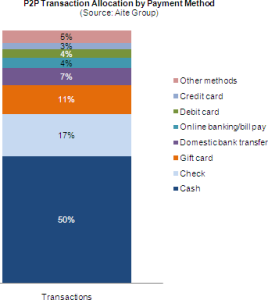 However, the huge size of the market alone does not tell the whole story. Another Aite Group report reveals that half of all P2P payments conducted in the United States, United Kingdom, and Australia were cash transactions, which will not be affected all that much by current payment processing developments, at least in the short term. 28 percent of the balance are check, bank transfers and online banking / bill payments, all bank transactions. This is the segment that banks have control over and are most anxious to preserve and expand. The rest is split among various types of payment cards and other methods, which is the segment that is directly affected by the current payment innovation wave and is rapidly expanding. Banks would love to get a piece of the action there as well, but so far have been too timid in testing the new technologies.

The Takeaway

The first question that comes to my mind is what took them so long? After all, PayPal has been around for more than a decade now, enabling consumers to easily, quickly and cheaply send each other money. Still, unlike American Express with its Serve offering, the banks have a distinct advantage over eBay's subsidiary, which may yet make their joint venture a success. It is that clearXchange will not require users to create a new account, instead enabling them to make bank-to-bank transfers from their existing accounts. If they also decide to offer the service for free, or at least no more expensively than PayPal's, the banks will have a clear advantage.

Of course, clearXchange's model has its disadvantages too. Firstly, it restricts the service to customers of the participating banks. Additionally, it only facilitates bank account transfers, leaving out card payments, which both PayPal and Serve support. On balance, clearXchange is a move in the right direction and may well meet with some success, but it does not go far enough.

Image credit: Wikimedia Commons.