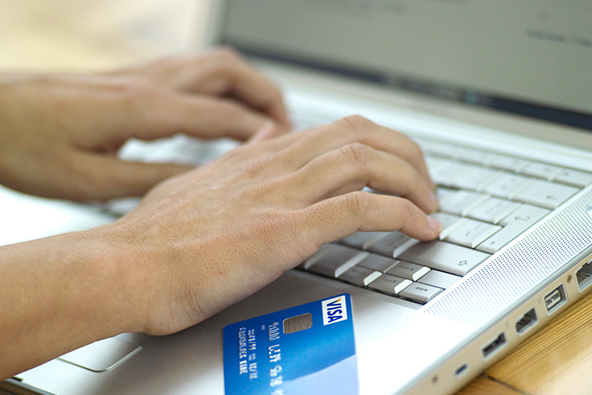 E-commerce merchants should develop and implement a clear and detailed policy to communicate the terms and conditions of their billing procedures. You should clearly display on your website your billing policy to your customers at the time of purchase, and you should make it easily accessible on your website.

Your billing policy should provide the following information:
When your customers' cards will be charged. When developing your billing policy, you should account for the industry rule that, in an e-commerce transaction, the transaction date is the date on which the merchandise was shipped, or the service provided. This means that you should not charge your customer's credit card before you have shipped the product.
How the transaction will appear on your customers' credit card statements. The way your transactions will appear on your customers' credit card statements is managed through your merchant account's billing descriptor. Contact your payment processor and make sure that your billing descriptor is set up correctly. This is especially important if your legal name is different from your DBA name. In such cases, consumers can easily get confused, as they can recognize your DBA, while processors typically use the legal name in the billing descriptor. If you are using a third-party billing company, inform your customers how the transaction will be described on their credit card statements (provide the third-party billing company's name and the transaction amount).
Ask your customers to save a copy of the transaction for their own records. The transaction copy should provide information about your store's policies so customers can refer to it when in doubt about a particular issue.

It is essential that you understand the importance of not charging your customer's card before the product has been shipped. Cardholders today can review their transactions online in almost real time and, if they see a charge on their accounts without having received the item or at least a delivery notification, they are likely to contact their card issuer and dispute the transaction. Customer disputes and the resulting chargebacks are the number one reason why e-commerce merchants get into trouble with their processing banks. Processors are required by Visa and MasterCard to monitor their merchants' chargeback levels and to ensure that they remain below 1 percent of the total number of transactions.

In case your store sells digital content, your policy should also incorporate the following best practices:
Do not charge your customers' card accounts before the service is actually accessed on your website with the applicable password.
Avoid the use of negative renewal options or other marketing techniques that may create the false impression that the product is free.
Keep the sale's terms and conditions clear and concise and communicate with your customers all special restrictions before the sale is completed.

Additionally, make sure that you include in your billing policy information about the transaction currency that will be used to complete the transaction. Remember that websites are accessible from all over the world and, unless you have decided against accepting international orders, your customers may be located anywhere. You should clearly state the currency, especially if it is not unique (a dollar may be Australian, New Zealand, Hong Kong or U.S.). Be advised that merchants cannot convert transaction amounts into different currencies. You may, however, display on your website equivalent amounts in different currencies, provided there is a clear notification that the conversion is for information purposes only. In order to further clear any currency confusion, you should provide on your website your place of business and your contact information.

Image credit: Dx3canada.com.