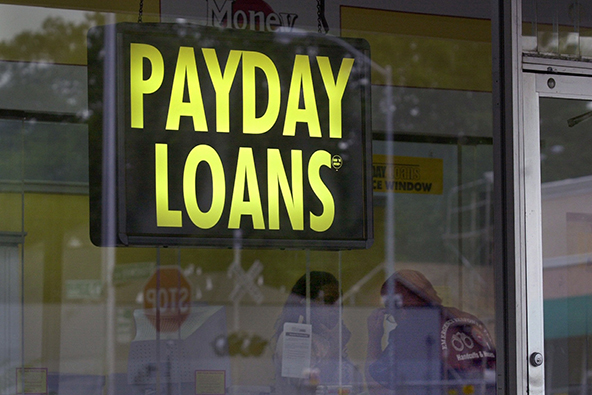 In its second Consumers and Mobile Financial Services survey, the Federal Reserve looks once again into the reasons why a significant chunk of U.S. consumers are either unbanked or underbanked. The researchers' findings confirmed the conclusion I drew from the first survey, which was that staying out of the traditional financial system is much more a matter of choice and lack of financial education, than it is about being shut out of it. The surprise was to see just how little progress has been made in a year when a number of excellent financial products were launched that were designed specifically for the unbanked.

And it is not as if nothing has changed in the unbanked world, far from it. Of those currently unbanked, 42 percent told the researchers that they had a bank account at some point in the past. Even more strikingly, the data from the 2011 and 2012 surveys show that 40 percent of those unbanked in December of 2011 had obtained a checking, savings, or money market account by November 2012. However, 4 percent of those who had a bank account in December 2011 no longer had one by November 2012.

Even the most casual of looks at the data tells you that, for whatever reason, the vast majority of unbanked Americans simply don't want to have anything to do with bank services. Now, even in 2011 such attitudes were difficult to justify and that was much more strongly the case in 2012. The launches of incredibly consumer-friendly prepaid cards such as Chase Liquid and, especially, Bluebird have made the decision to stay out of the traditional financial system a very costly one. It's about time that the unbanked gave these prepaid cards a try and left the check cashier services behind.

Why Are Consumers Unbanked?

In 2012, the share of unbanked consumers — defined as consumers who do not have a checking savings, or money market account — fell to 9.5 percent of the adult population, down from 10.8 percent in 2011. And if the use of reloadable prepaid cards is included in the definition, the share of consumers who are unbanked declined from 9.0 percent in 2011 to 7.9 percent in 2012. The share of underbanked consumers — defined as having a bank account, but using an alternative financial service such as a payroll card, payday lender, check casher or auto title loan — has fallen very slightly over the past year — from 10.2 percent in 2011 to 9.9 percent a year later. So why are there so many unbanked and underbanked Americans?

Well, the reasons given by the respondents for not having a bank account are quite revealing, as you can see in the table below. Whereas there are consumers who offer genuinely good reasons — "credit problems" and "cannot manage/balance an account" — these only account for 9 percent of all respondents. It is true that, if you've had credit problems in the shape of issues with previous bank accounts, no bank is likely to want to service you. And if you know that you cannot balance an account, you are probably better off not opening one up in the first place.

However, all other answers, excluding the 16 percent which are divided between the "refused to answer" and "other" groups, betray either a personal attitude towards the industry and its services — "I don't like dealing with banks" and "I don't need or want an account" — or misinformation (all other categories). And it's very likely that the two are related. After all, if you thought that the banks' fees were too high, how could you like them? But here is the thing. Leaving aside the fact that there are still plenty of free checking accounts around, compared to what are bank fees too high? Payday loans? Check-cashing services? Even if you couldn't find a free checking account, although you would be able to if you looked for one, there is no way that a bank account would cost you more than a payday loan or a check-cashing service. And not writing enough checks, which is a reason given by 16 percent of respondents, doesn't add to the cost. So what we see is that a combination of lack of financial education and personal prejudices is preventing Americans who may qualify for traditional banking services from using them.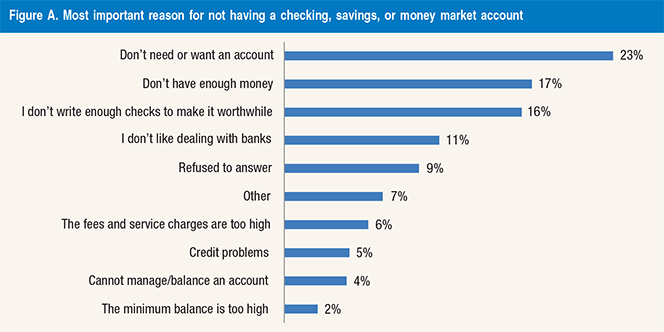 Why Are Consumers Using Payday Loans?

One in ten of the respondents report ever using a prepaid loan, we learn, but only 6 percent have done so in the past year. The respective percentages for 2011 are only marginally different — 11 and 5. As we know, this is an incredibly expensive form of financing, with even the best of payday lenders charging annual interest rates of 300 percent. So why would you take out such an expensive loan? Well, here is what the borrowers are telling us: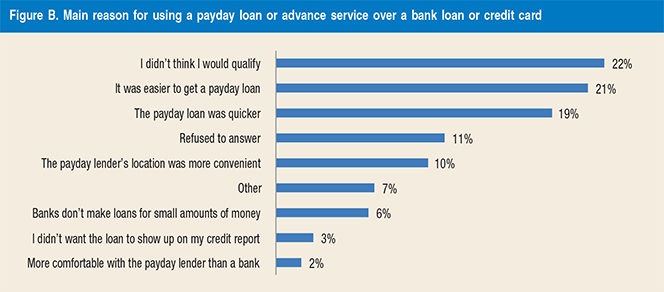 There is no way to justify taking out a payday loan, unless you absolutely needed the money for some crucially important purpose and you tried, but could not get a more traditional type of loan. Yet, what we learn is that half of payday loan borrowers are being severely overcharged, because they find payday borrowing easier (21 percent), quicker (19 percent) or more convenient (10 percent). And then there are the two percent who felt "more comfortable" with payday loans.

The Takeaway

The good news is to be found in the changing attitudes toward prepaid cards. The researchers note that "[p]repaid cards have remained the most-used alternative financial service over the last several years" and tell us that about half of the consumers surveyed reported that they have used the product. The even better news is that many new-age prepaid cards now charge very low or no fees at all. Moreover, the best one of them — Bluebird — which was only launched in October of last year, is sold at Wal-Mart, which is arguably the best way to market anything to the unbanked. So I expect prepaid issuers to grab more market share from payday lenders, although, sadly, the latter are unlikely to disappear anytime soon.

Image credit: Bankis-on.blogspot.com.