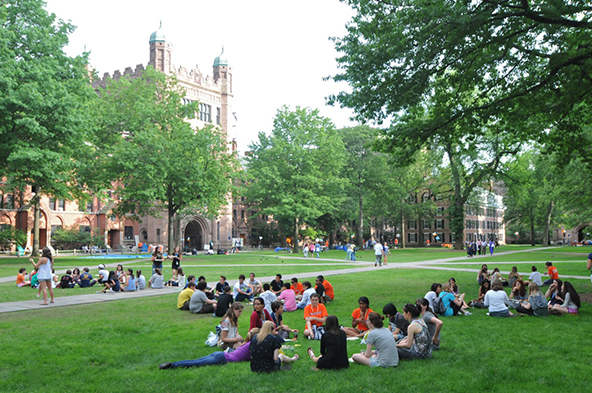 The CARD Act of 2009 mandated that financial institutions could not issue credit cards to anyone under the age of 21, unless the youngster could prove that he or she had the means to pay back the debt. Otherwise, the applicant would have to find an older co-signer. Additionally, the CARD Act greatly restricted the marketing of credit cards on college campuses. And the latest data released by the Consumer Financial Protection Bureau (CFPB) show that issuers' interest in college-affiliated credit card programs is on the wane.

In its annual report to Congress, the CFPB tells us that in 2011 banks paid less money to colleges and affiliated organizations (e.g. fraternities, sororities, alumni associations, etc.) for the right to issue credit cards to their students and members than they did in 2010 and we already knew that in 2010 they paid less than they did in 2009. The CFPB is careful to point out that its data do not include information about credit card accounts opened by students "independent of a college credit card agreement", but the report is nevertheless the best resource we have available to help us gauge the issuers' interactions with college-age consumers. So let's take a look at the data.

College Students Get Fewer New Credit Cards

The CFPB has received 798 college credit card agreements from 21 credit card issuers for 2011. The data show that the number of issuers who entered into agreements with college organizations has increased slightly from 2009 to 2011. However, all other categories — the number of agreements, total number of new college card accounts, amount of payments by issuers, and number of new college credit card accounts — showed a decline over this period. Here are the data:
Issuers Pay $62M for Access to College Students in 2011
The headline figure to come out of the report is the $62 million paid by 21 card issuers to various college organizations in 2011, a decrease of 26 percent — $22 million — from the $84 million paid out by financial institutions in 2009.

We learn that one issuer — Bank of America's subsidiary FIA Card Services, N.A. — was responsible for 72 percent ($44.7 million) of the total amount paid to colleges and affiliated organizations. Here is the full list of issuers with active college credit card agreements in 2011:

As you see, the money paid by the 21 issuers listed above has bought them just over 1.5 million new credit card accounts. Unsurprisingly, this category too is dominated by BofA's FIA Card Services, though to a lesser extent. FIA has opened 53.7 percent of all new college credit card accounts in 2011, according to the report.

Who Got Paid

The largest share of the college card agreements in effect in 2011 — about 42 percent — were between a card issuer and a college-affiliated alumni association. An additional 33 percent were between an issuer and a college. Here is the full list:


As you see in the table above, alumni associations received the lion's share of the issuers' payments in 2011 — $38 million or 61 percent of the total. As was the case in 2010, the biggest beneficiary of issuer money was the Penn State Alumni Association, which led the field by quite a margin. Here is the top-5 list of the college institutions or organizations that were the biggest recipients of issuer payments in 2011:

Agreement

Payments by issuer in 2011

Payments by issuer in 2010

Rank as of 12/31/2010

Institution or organization

Credit card issuer

Penn State Alumni Association

FIA Card Services, N.A.

$2,742,743

$4,292,488

1

Alumni Association of the University of Michigan

FIA Card Services, N.A.

$1,700,000

$1,600,000

3

University of Southern California

FIA Card Services, N.A.

$1,502,250

$1,508,625

4

University of Tennessee

Chase Bank USA, N.A.

$1,428,571

$1,428,571

5

California Alumni Association

FIA Card Services, N.A.

$1,353,825

$1,353,225

7
The Takeaway

As the report's authors are careful to point out, the majority — 67.4 percent — of the reported college credit card agreements are between issuers and college-affiliated organizations and so are the majority — 59 percent — of all newly-issued college credit cards. Furthermore, the bulk of the issuers' payments — 66.8 percent — have been collected by college-related institutions, not colleges. Moreover, while we have no specific data to look at, it is safe to assume that a good portion of the new card accounts that can be linked to agreements between colleges and issuers went to students older than 21. So, on the whole, most college credit cards that were opened in 2011 have actually been issued to over-21 applicants. And the data strongly indicate that these older college-affiliated consumers, not their younger counterparts, are the type of cardholders the issuers want.

Image credit: D.I.E.C..