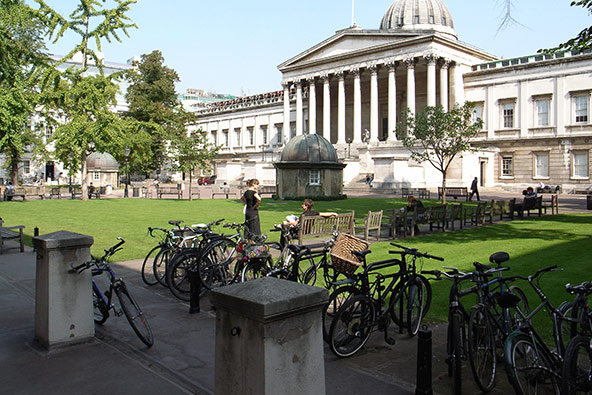 One of the most controversial provisions of the CARD Act of 2009 prohibited financial institutions from issuing credit cards to anyone under the age of 21, unless the youngster could prove that she had the means to pay the debt back. Failing that, the applicant could only get a credit card if she could find an older person to co-sign her application. Furthermore, the CARD Act placed great restrictions on the marketing of credit cards on college campuses. And the latest report released by the Consumer Financial Protection Bureau (CFPB) shows that the law has succeeded: the issuers' interest in maintaining college-affiliated credit card programs is quickly diminishing.

In its fourth annual report to Congress, the CFPB is telling us that in 2012 banks had entered into fewer agreements with, and paid less money to, colleges and affiliated organizations (such as fraternities, sororities, alumni associations, etc.) for the right to issue credit cards to their students and members than they did in 2011, which was also the case in each of the preceding years.

Of course, as the CFPB itself points out, the report does not include data about any credit card accounts opened by students "independent of a college credit card agreement", but this is nonetheless the best resource we have available to help us examine the issuers' interactions with college-age consumers. And anyway, if fewer youngsters are opening up credit cards through their colleges and organizations, I think it is very probable that the same is true for non-college-affiliated credit card accounts. And in fact data from the United States Government Accountability Office (GAO) confirms this assumption, as we will see in a moment. But let's first take a look at the data.

College Students Get Fewer Credit Cards

In 2012, the CFPB has received 617 college credit card agreements (down from 798 in 2011) from 23 credit card issuers (up from 21 in the previous year). The report shows that the number of issuers who have entered into agreements with college organizations has held roughly stable between 2009 and 2012.

However, all other categories–the number of active agreements, the total number of newly-opened college card accounts, the total amount paid by issuers and the overall number of active college credit card accounts–has steadily declined over this period, as you can see in the chart below.


And here is the full data set:
Issuers Pay $50.4M for Access to College Students

The report's headline number, as ever, is the $50.4 million paid by the 23 card issuers listed in the table below to various college organizations in 2012, a decrease of 19.4 percent–$12.1 million–from the $62.5 million total for 2011, which itself was lower by 15 percent–$11 million–than the $73 million paid out by financial institutions in 2010.

Once again, one particular issuer–Bank of America's subsidiary FIA Card Services, N.A.–was responsible for the lion's share–71 percent ($35.6 million) of the total amount paid to colleges and affiliated organizations (FIA's last year's share of the total was practically the same–72 percent). Here is the full list of issuers with active college credit card agreements in 2011: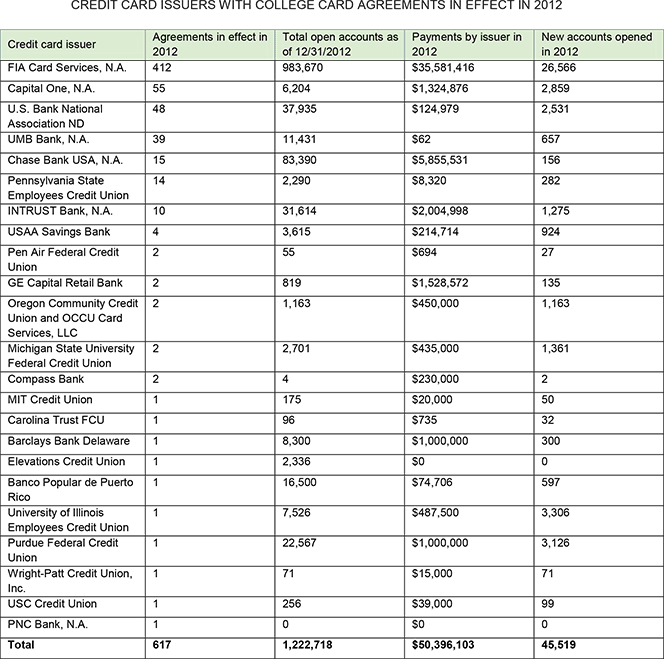 As you can see in the chart above, the money paid over the years by the 23 issuers listed there has bought them just over 1.2 million credit card accounts–down by about 20 percent from the previous year's total of 1.5 million. As you would expect, this category too is dominated by BofA's FIA Card Services, and even more so than the money-paid category. In 2012, FIA had 80.4 percent of all active college credit card accounts, up by 49.7 percent from the issuer's 53.7-percent share in 2011, according to the report.

Who Got Paid

The biggest share of the college card agreements in effect in 2012–about 43 percent–were struck between a card issuer and a college-affiliated alumni association (the share for 2011 was about the same–42 percent). An additional 28 percent (down from 33 percent in the previous year) of the agreements were signed between an issuer and a college. Another 19 percent were between a credit card issuer and some other type of organization affiliated with an institution of higher education. Here is the full list:


As you can see in the table above, alumni associations received by far the biggest share of the issuers' payments in 2012–$30.8 million (61 percent)–down from $38 million (and again 61 percent) of in 2011.

But that wasn't always the case. The make-up of the affinity agreements has changed a great deal since the 2010 year's report, in which alumni associations constituted only 36 percent of all affinity agreements and institutions of higher education accounted for 37 percent. The growth in alumni associations' share of the agreements at the expense of the share of institutions of higher education is a continuation of the trend illustrated in the figure below.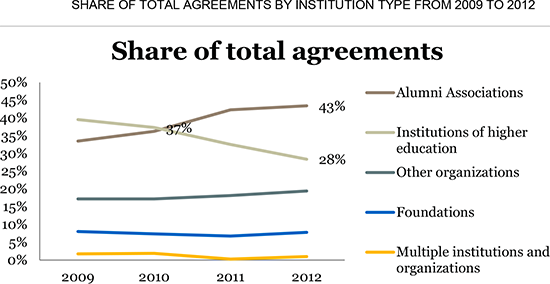 As was the case in 2011 and 2010, the biggest beneficiary of issuer money was the Penn State Alumni Association, which led the field by a substantial margin. Here is the top-5 list of the college institutions and organizations, which were the biggest recipients of issuer payments in 2012:
Agreement

Payments by issuer in 2012

Payments by issuer in 2011

Payments by issuer in 2010

Rank as of 12/31/2011/

12/31/2010

Institution or organization

Credit card issuer

Penn State Alumni Association

FIA Card Services, N.A.

$2,742,743

$2,742,743

$4,292,488

1 / 1

Alumni Association of the University of Michigan

FIA Card Services, N.A.

$1,800,000

$1,700,000

$1,600,000

2 / 3

University of Southern California

FIA Card Services, N.A.

$1,505,550

$1,502,250

$1,508,625

3 / 4

University of Tennessee

Chase Bank USA, N.A.

$1,428,571

$1,428,571

$1,428,571

4 / 5

California Alumni Association

FIA Card Services, N.A.

$1,353,450

$1,353,825

$1,353,225

5 / 7
The Takeaway

The marketing of credit cards on college campuses has declined quite drastically since the CARD Act took effect. There are fewer affinity programs and much less money is being paid to colleges and affiliated organizations for the right to market cards to their students and members. Consequently, the number of newly-opened accounts is declining.

Moreover, the United States Government Accountability Office tells us that the biggest affinity card issuers (representing 91 percent of cardholders) are now primarily targeting alumni and no longer market affinity cards directly to students. As a result, there has been a marked decline in card solicitations to students in recent years and in the newly-opened accounts in response to such solicitations. Only 6 percent of students are reported to have obtained a credit card as a result of a direct mail solicitation in 2013, down six-fold from the 36-percent share recorded in 2000.

So the CARD Act is working as planned here and has significantly limited student access to credit cards. Whether that is good or bad policy, however, is a wholly different matter. I, for one, firmly believe that college students should be able to open credit cards more easily. On this blog we've looked into reports, which have shown that youngsters are perfectly able to manage them and don't need "protection". But this argument has been settled, at least for now.

Image credit: Wikimedia Commons.