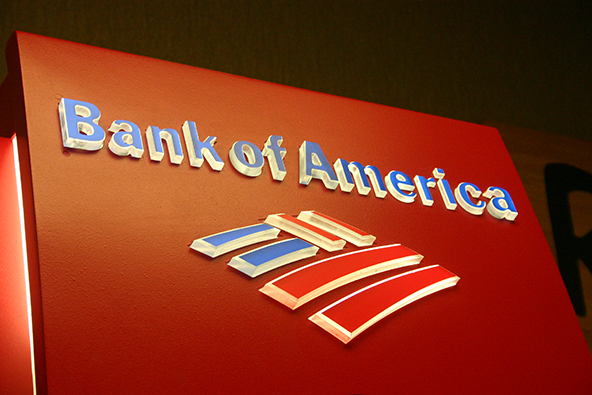 Another huge bank is teaming up with a giant credit card company to test a contactless payment system. This time it is the turn of Bank of America, the largest U.S. consumer bank, and Visa, the largest card payment network in the world, to unveil a program that would make it possible for customers to pay by waving their phones by a specially equipped point-of-sale (POS) terminal.

The test will begin in September in the New York area and will last through the end of the year. Visa also plans a similar test program with U.S. Bancorp, beginning in October.

Visa will supply participants in the test with small chips that would be attached to their cell phones and transmit transaction data to the merchant's terminal. Although technical details were not released, it is likely that the chips will use near-field communication (NFC) frequency to communicate with the merchant's POS device. The NFC frequency allows data transmission within a range of less than 20 cm (8 in), which limits the risk exposure to threats from hackers.

Once a user waves his chip-equipped phone by a participating merchant's POS device, his account information will be transmitted first to Visa and from there to Bank of America for authorization. Then the transaction will be processed just as any other card payment. Upon approval, a receipt will be printed out for the cardholder to complete the transaction.

Contactless cell phone payments have been in use in Japan and South Korea for years, but they never made any headway in the U.S. This is certain to change, however, with most mobile phone carriers and major banks developing their systems.

Only a couple of weeks ago three major carriers – Verizon, AT&T and T-Mobile – announced they were teaming up with fourth-biggest U.S. card payment processor Discover and British Barclays Bank to develop their own contactless payment service, using NFC technology.

Earlier this year, Starbucks expanded its own iPhone mobile payment service, also using NFC technology, from 16 West Coast stores to more than 1,000 locations nationwide.

So it is clear that the U.S. is finally on its way to joining Japan and Korea in adopting the mobile payments technology and at the rate smart phones are evolving, we are likely to see much more innovations in a fairly short order. The day when most cardholders will have their credit card information stored in their phones, rather than in a piece of plastic, is probably just a few years away.

Yet, for all their convenience, mobile payments will not transform the credit card industry. Cell phones will simply become another tool for facilitating credit card payments, cooler than POS terminals, but performing the same functions. More importantly, transaction fees, paid by merchants for each card payment they accept, will either remain the same or increase. NFC-transmitted payments will initially be classified as "card-present" transactions, giving them the lowest processing rates, because cardholders will be signing physical receipts. That puts them on par with POS terminal-processed payments. However, if it turns out that mobile payments are more prone to fraud or chargebacks, Visa, MasterCard and the credit card companies are sure to revise this classification.

Image credit: Wikimedia Commons.