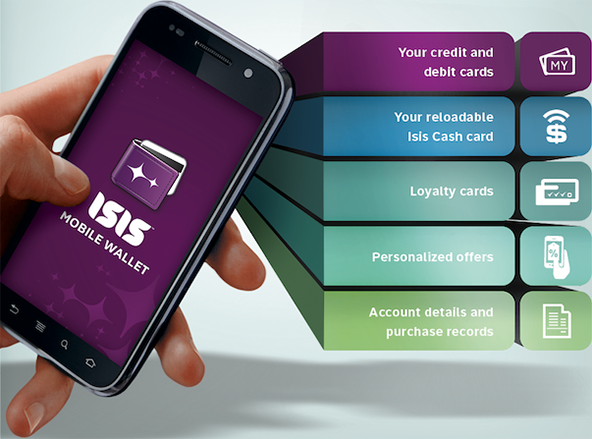 AT&T, T-Mobile and Verizon have officially formed a joint venture that will create a national mobile commerce network, according to a press release. The companies have hired Michael J. Abbott, a former General Electric Co. executive, to lead the venture, which will be called Isis.

The new company will be using near field communication (NFC) technology to enable consumers to make payments at participating merchants using their cell phones.

Isis users will have to attach a chip to their phones, which will communicate at the checkout with the merchant's point-of-sale (POS) system through short-range high frequency signals. In essence, users will be making payments by waving a cell phone by a wireless device, which would "read" the user's account information stored on the phone, much as a POS terminal does when you swipe a card through it. The only difference would be that you would be using not a credit card but a phone.

Isis will be processing the payments through Discover's network, which is the fourth-largest in the U.S., behind Visa, MasterCard and American Express. Discover cards are currently accepted at seven million merchant locations nationwide.

The fifth participant in the venture is Barclays, a large British bank, which will be managing the user accounts and is "expected to be the first issuer on the network, offering multiple mobile payment products," according to the press release.

The company's website – www.paywithisis.com – is rather scarce on details about the new service. It only goes as far as stating that Isis "will eliminate the need to carry cash, credit and debit cards, reward cards, coupons, tickets and transit passes, fundamentally changing how you shop, pay and save."

What we do know is that the potential for Isis is huge. The three participating wireless carriers have collectively more than 200 million subscribers, who will have access to the new service.

Initially, Isis will test-pilot the project in selected "key geographic markets during the next 18 months," which according to Bloomberg will be Minneapolis, Salt Lake City, Atlanta and Austin, Texas.

Isis is by far the biggest mobile payments initiative to date in the U.S., although there have been at least a couple of fairly ambitious wireless payment projects this year alone.

Starbucks recently expanded its own NFC-based pilot to include more than 300 stand-alone stores in New York City, after adding more than 1,000 outlets located within Target stores to its year-old program earlier this year.

In yet another pilot program using NFC technology, the New York Metropolitan Transportation Authority (MTA) brought together rivals Visa and MasterCard to enable commuters to pay for their with a wave of their phones or credit cards by specially equipped turnstiles.

As big as these NFC-based projects are, they represent only one side of the mobile payments industry. Start-ups like Square, for example, rely on the more traditional swiping technique, while other new-comers, like Boku, enable users to charge purchases directly to their monthly phone bill. It is too early to tell which approach will prove most successful, or it may also turn out that there is plenty of room for all of them in the mobile payments world of the future.

Image credit: Isis.