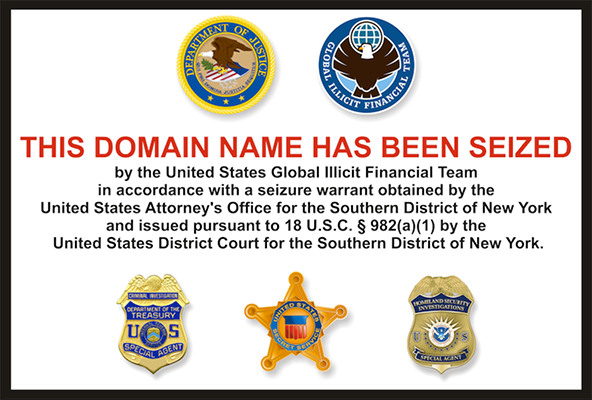 Bitcoin — the world's best known virtual currency — may be only beginning to face legal scrutiny in the U.S., but another cyber currency exchange system, called Liberty Reserve, has just been shut down and several of its top executives have been arrested at locations around the world, various news outlets report this morning. Liberty Reserve's website has been seized by the U.S. authorities on Tuesday and the service has been named under the USA Patriot Act as "specifically designed and frequently used to facilitate money laundering in cyber space", Reuters tells us.

I've been arguing for some time that such actions were only a matter of time, although my attention had so far been focused exclusively on Bitcoin — to be honest, I didn't even know that Liberty Reserve existed until this morning. And recent events support my argument: it is inconceivable that the U.S. authorities or their counterparts in the European Union will ever allow a digital currency exchange of the type of Bitcoin or Liberty Reserve to exist. After all, the primary function of these two exchanges is to facilitate transactions which cannot be done in dollars or euros. And you know what types of transactions cannot be done in dollars or euros. So these two types of cyber money have been able to fly under the legal radar for a few years, but that has now come to an end.

What Is Liberty Reserve?

Liberty Reserve is a digital currency exchange service based in Costa Rica. It has two currencies: Liberty Reserve USD (LRUSD) and Liberty Reserve EURO (LREUR). The company's terms of service state that "the digital currency in which the electronic transfer services are provided [are] backed by United States of America Dollars and Euros."

The BBC tells us more about the company:
Liberty Reserve had described itself as being the internet's "oldest, safest and most popular payment processor… serving millions all around a world."


It had allowed users to open accounts and transfer money, only requiring them to provide a name, date of birth and an email address.


Cash could be put into the service using a credit card, bank wire, postal money order or other money transfer service. It was then "converted" into one of the firm's own currencies — mirroring either the Euro or US dollar — at which point it could be transferred to another account holder who could then extract the funds.

The fee charged by Liberty Reserve is a flat 1 percent, payable by the recipient of the funds. However, there is a maximum fee of $2.99, so funds above $300 are transferred for free.

As is customary with digital currency processing systems, chargebacks are not allowed, so all transactions are final. As I have already explained, in the long run transaction irreversibility is an impossibility, as government consumer protection agencies are bound to eventually take action in support of consumers. The reason why this has not become an issue in Liberty Reserve's case is that the service seems to have been used primarily for money transfers of dubious legality, not for ordinary e-commerce transactions.

You can immediately see the potential for abuse of such a money transfer system, even if one assumes that it was designed with the best of intentions, which at least in the case of Liberty Reserve is doubtful. And now the U.S. Attorney in charge of the investigation tells us that illegal activity is pretty much all that has been taking place on the system.

Why Was Liberty Reserve Shut Down?

So U.S. prosecutors from the Southern District of New York have filed an indictment against Liberty Reserve and seven of the digital currency exchange's executives, alleging that the Costa Rica-based company ran a vast money laundering operation:
[T]he Defendants operated an international online digital currency service and money transfer system through the website www.libertyreserve.com that was designed to attract and maintain a customer based of criminals and, in fact, became the online service preferred by cybercriminals around the world for distributing, storing, and laundering the proceeds of their criminal activity.

There is more:
Because virtually all of LIBERTY RESERVE's business derived from suspected criminal activity, the scope of the defendants' unlawful conduct is staggering. Estimated to have had more than one million users worldwide, with more than 200,000 users in the United States, LIBERTY RESERVE processed more than 12 million financial transactions annually, with a combined value of more than 1.4 billion. Overall, from 2006 to May 2013, LIBERTY RESERVE processed an estimated 55 million separate financial transactions and is believed to have laundered more than $6 billion in criminal proceeds.

Pretty damning stuff, prompting U.S. Attorney Preet Bharara to call this "the largest international money laundering case ever brought by the United States", as quoted by Reuters.

So I expect that the Liberty Reserve executives who are now in custody will end up spending some time behind bars, in addition to whatever fines they will have to pay.

The Takeaway

I have little doubt that merchants relying on, or considering, Bitcoin or some other virtual currency exchange system for facilitating payments on their websites are paying very close attention to what is happening to Liberty Reserve. And they should, for the days of unregulated Bitcoin-like transactions are numbered. But the thing is that if a given virtual currency operator decides to play by the rules and only work with legitimate clients, the prospect of having to disclose and document their activities would immediately scare the bulk of said clients away. See, whatever the virtual money operators may say, the fact is that the vast majority of the payments they facilitate are for transactions with dubious legality. Legitimate merchants have always been able to take payments for the things they sell, even before Bitcoin.

As a side note, I can't help but notice just how clever a decision Bitcoin's creators had made when they decided not to disclose their identities or to get themselves directly involved into the commercial implementation of their concept. It's almost as if they had been anticipating the current events. Oh wait, they were idealists; never mind…