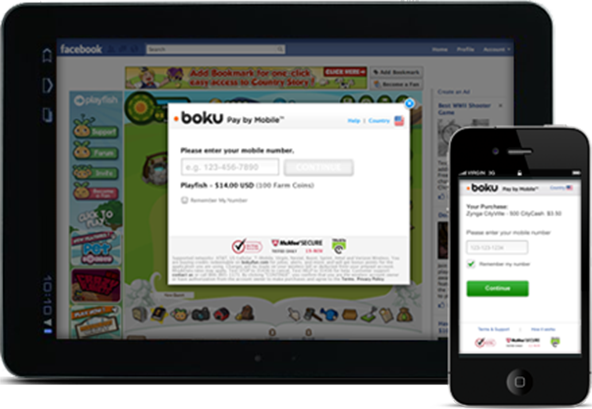 Apple and Google are both in talks with BOKU, interested as much in acquiring the mobile payments start-up, as they are in keeping it out of the rival's reach, TechCrunch's Robin Wauters reports.

From TechCrunch:
BOKU President and CEO Mark Britto and co-founder Ron Hirson have held multiple meetings with executives at the helm of Apple's iPhone business in the course of the past 3 weeks. Neither one would comment on the rumors.
…
Furthermore, BOKU has also engaged in high-level meetings with Google, namely with Director of Engineering Michael Morrissey, who oversees developments for Google Mobile Services for Android (which includes the Android Market app store). BOKU already can be used for in-app purchases for Android apps.

BOKU enables users to make payments online by entering their cell phone numbers at checkout. The purchase amount is then added to the user's monthly phone bill.

It is unclear what the two technology giants are prepared to pay for BOKU, but according to Wauters, the start-up could end up costing Apple anywhere between $250-450 million, provided Steve Jobs and company manage to beat out their rival.

This is not the first time Apple squares off with Google over a start-up. Late last year Google acquired mobile advertising company AdMob for $750 million, just days after Apple let its $600 million bid for the company expire. Apple ended up consoling itself by purchasing a smaller ad company called Quattro Wireless for $275 million.

We don't know if history will repeat itself with BOKU, but we do know that Apple is very interested in mobile payments and that it has already registered several near field communication patents for the next iteration of the iPhone, which will enable users to make payments using credit or debit card information that is pre-stored on the phone.

Apple is already processing payments through iTunes, its popular online digital media store, which boasts more than 160 million users with active credit card accounts. By comparison, PayPal has 90 million. Enabling users to make such purchases through their phones is surely on the company's to-do list.

For Google, on the other hand, a possible BOKU acquisition would enable the search giant to bolster its Checkout service and make it a more appealing alternative to PayPal. Additionally, Google can leverage BOKU's existing relationships with mobile carriers for the growth of the Android Market, an app store. Similarly to iTunes, the Android Market can benefit hugely from a payments platform that allows users to charge their app purchases to their monthly phone bills.

The start-up's website states that BOKU reaches over 1.8 billion consumers worldwide and has received funding from major venture capitalists including Benchmark Capital, Index Ventures, Khosla Ventures, DAG Ventures and Andreesen Horowitz. According to TechCrunch, BOKU raised a large amount last January at a valuation of $100 million.

It is still too early to predict the outcome, but acquiring BOKU makes perfect sense for both Apple and Google. Add to that each giant's desire to keep a valuable piece of online property out of a rival's grasp and you have the make-up of a bidding war. Both companies have plenty of cash and the indications are that they are willing to spend it.

Image credit: Boku.com.