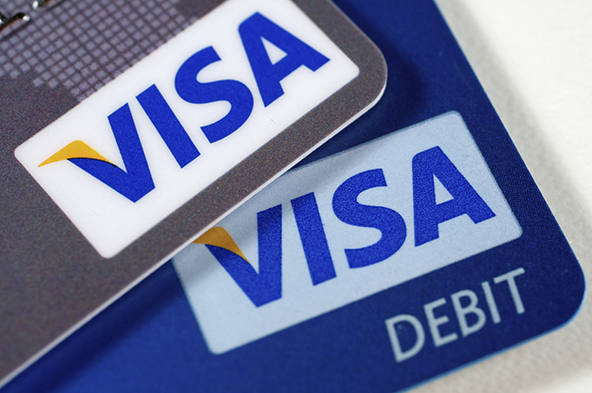 Prepaid and debit cards are easily the fastest-growing non-cash payment methods in the U.S., according to a recent Federal Reserve study. Both still represents a small proportion of the overall non-cash payment volume, as the report notes, but that is changing fast and all signs point to even faster growth in the next few years. In the longer-term, however, while paper checks will all but disappear, credit card use is likely to rebound.

How Non-Cash Payment Methods Compare

The Fed's study examines non-cash payment data for the period 2006 – 2009. The researchers have looked into the number and volume of check, debit card, credit card, automated clearinghouse (ACH), and prepaid card payments made from accounts opened in the U.S.

Here is how the numbers have changed for the payment categories examined by the Fed:

2006

2009

CAGR*, in %

Number, in billion

Value, in $ trillion

Number, in billion

Value, in $ trillion

Number

Value

Checks paid

30.5

41.60

24.5

31.6

-7.1

-8.8

ACH

14.6

30.97

19.1

37.16

9.4

6.3

Credit card

21.7

2.12

21.6

1.92

-0.2

-3.4

Debit card

25.0

0.97

37.9

1.42

14.8

13.5

Prepaid card

3.3

0.08

6.0

0.14

21.5

22.9

ATM cash

withdrawals

5.8

0.58

6.0

0.65

0.9

3.8

Total payments

95.2

75.74

109.0

72.2

4.6

-1.6

*CAGR is compound annual growth rate.

Paper to Electronic Migration Accelerates

The Fed researchers conclude that:
[T]he migration from paper to electronic payment methods shown in previous studies is continuing and in some cases at increasing rates… [I]t seems clear that the increasing adoption of electronic options, such as debit cards, online bill payments, and prepaid cards is a driving factor.

So the dynamic is quite clear: while paper checks are quickly fading out as a mainstream payment method and credit card use is flat, the non-credit types of bank cards, although still tiny by volume, are quickly gaining ground on both.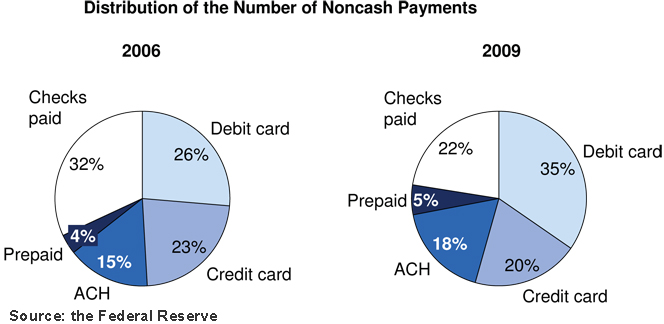 The Future of Credit Cards

While I have no doubt that paper checks will all but disappear in the next decade or so, I think that credit card use will eventually rebound, once the economy becomes stronger and consumer confidence improves.

My optimism for the future of credit cards is based on two unique advantages they offer: convenience and rewards. The reason I use my credit card for all of my purchases, even when I buy a less-than-two-dollar cup of coffee at a Starbucks, is that (1) I don't get to deal with the coins I would be handed back if I paid in cash and (2) it earns me cash-back rewards. Now, my debit card would also spare me from having to deal with the coins, but I would constantly need to make sure I have enough funds in my checking account (whereas I am unlikely to ever go over my credit card's line of credit) and it would not earn me any cash-back. Prepaid is way too inconvenient to even be considered by someone with access to credit cards and a bank account.

The Takeaway

So, all things considered, I think that two dynamics are now shaping the future of non-cash payments: one short-term and a long-term one. In the short-term, while the economy is sluggish, debit and prepaid are likely to keep gaining ground on credit, due to tighter underwriting standards and consumers' newly-developed wariness of credit.

In the longer term, however, the appeal of convenience and rewards offered by credit cards, will once again win over consumers and credit card use will pick up. There will always be people who just can't handle credit and spend beyond their means for whom debit or prepaid would be the better choice (although they are unlikely to realize it), but for the majority of us credit will be vastly preferable to any other non-cash alternative.

Image credit: L3payments.com.