American consumers took on more credit card debt in October, according to the latest G.19 statistical release from the Federal Reserve. That marks a rare in post-Lehman America back-to-back monthly increase, following an upward revision for the September's total, which was initially reported to have decreased by one percent, but is now updated to show a growth of 0.6 percent.

Non-revolving consumer debt in the U.S., however, grew by more than expected for a second consecutive month, even as the August number, which already was its biggest drop in three years, was pushed down by another percentage point. As a result, the aggregate outstanding consumer debt also expanded in October by more than anticipated.

Credit Card Debt up 0.6% in October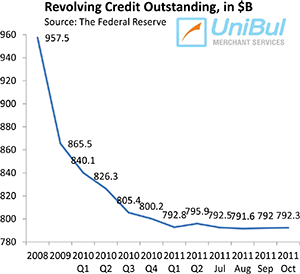 The total amount of outstanding U.S. consumer revolving credit, made up almost exclusively of outstanding credit card balances, rose in October by 0.6 percent, or $366.2 million, bringing the total up to $792.3 billion, still only a hair (0.3 percent) above the post-Lehman low of $789.6 billion reached in April, which was also the lowest level in more than seven years.

Since the financial crisis struck in September 2008, the Federal Reserve had been reporting decreases in revolving credit for every month until December 2010. In the eleven monthly reports since then, pending any further revisions, we've had five increases.

Yet, since August 2008, the month before the collapse of Lehman Brothers, the aggregate amount of consumer credit card debt in the U.S. has fallen by $181.3 billion, from $973.6 billion to $792.3 billion, a decrease of 18.6 percent. To put in another way, the average family with outstanding credit card balances (about 54 million, according to the Fed), has reduced its debt burden by $3,357 for the period.

Overall Consumer Credit Up 3.7%

The larger, non-revolving portion of consumer debt, made up of auto loans, student loans and loans for mobile homes, boats and trailers, but not including home mortgages and loans for other real estate-secured assets, increased in October at a faster rate than the revolving category. The Fed reported a 5.3 percent increase, bringing the total up to $1,665.2 billion, up $7.3 billion from September. Since July 2010, non-revolving credit has only decreased once — in August of this year by 6.4 percent.

The total amount of U.S. consumer credit — the sum of revolving and non-revolving outstanding balances — rose by $6.7 billion, or 3.7 percent, to $2,457.5 billion in October, after increasing by a revised $6.8 billion in September.

The Takeaway

The October increase in revolving credit is well within the Fed's margin of error. It will most likely be revised, but we don't know whether it will go up or down. What we do know, however, is that the rate at which consumer credit card debt is falling in America has significantly slowed down in recent months and it is now nowhere close to the pace measured in the months immediately following the financial meltdown in September 2008.

Moreover, the credit card delinquency rate in the U.S., though still in record-low territory, seems to have bottomed out. As of October, credit card payments late by 30 days or more have been stuck at 3.04 percent for a third month in a row, according to Moody's, a credit ratings agency. Credit card defaults, however, are still falling. The October charge-off rate, as reported by Moody's, was 5.06 percent and the agency expects it to fall below four percent sometime next year.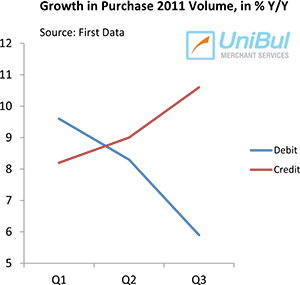 At the same time, Americans are once again beginning to rely more heavily on their credit cards. After a period of decline, credit card use is once again growing, we learned earlier this week from a report released by First Data, a payment processing provider. For a first time in years, the growth rate of credit card purchases is now bigger than the one of debit cards.

The good news is that, even as Americans are using their credit cards more often than they have been in a long time, they are also paying back at the end of each month a larger proportion of what they had spent than historically has been the case. The monthly payment rate (MPR) for October was 20.91 percent, according to Moody's, compared to a historical average in the mid-teens. This huge and sustained rise in the MPR goes a long way towards explaining the fall in delinquencies and defaults, although consumer reluctance to take on more credit, as well as its unavailability in the aftermath of the financial crisis, played their part too.