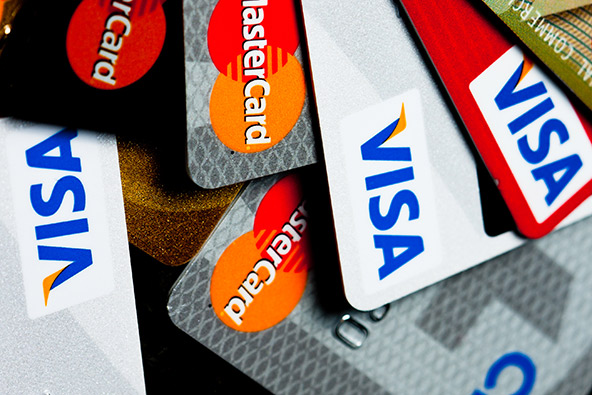 The outstanding U.S. consumer debt total rose yet again in November of last year, the Federal Reserve told us in its latest consumer credit data release. This was also the 27th consecutive monthly increase. The total rose by $12.3 billion, following a downwardly revised $17.9 billion increase in October. After a rare increase in its credit card component the month before, November's overall consumer debt growth was almost exclusively the result of the sustained rise of its non-revolving portion and, particularly, of the auto and student loan totals, the former of which has been driven by the ongoing and accelerating economic recovery. The latter, on the other hand, has just kept growing through crisis and recovery alike.

The relentless increase of the federal student loan total slowed down considerably at the beginning of 2013, which was good news, considering the huge explosion it had experienced over the past decade, and especially in that past five years, as you can see in the chart further down. That growth, combined with high unemployment, led to rising charge-off and delinquency rates, a process that is still ongoing.


On the other hand, the credit card debt total remained virtually flat and its relatively big October rise has been revised downwards. It will be interesting to see whether, as the economic recovery continues to strengthen and unemployment declines to more normal levels, Americans will rediscover their passion for a more liberal credit card use. Even more interesting will be to see whether credit card delinquency and charge-off rates will remain at their present historically low levels — for as long as these are kept down, the absolute debt level will not matter much. Now let's take a look at the latest Fed data.

Credit Card Debt up by 0.6% in November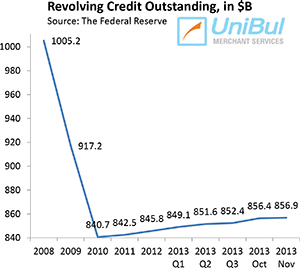 The total amount of consumer revolving credit in the U.S., which is made up almost exclusively of outstanding credit card balances, rose in November at a seasonally adjusted annual rate of 0.6 percent, or $0.5 billion, from the previous month's level, after a downwardly revised 4.8-percent growth in October. As you can see in the chart to your right, that total went into a free fall in the aftermath of the financial crisis in September 2008 and kept falling uninterruptedly until the end of 2010. Since then, it has moved up and down, but has remained mostly unchanged.

The total for November — $856.9 billion — is only 1.9 percent, or $16.2 billion, above the total reported at the end of 2010 ($840.7 billion) — at the height of the credit card debt deleveraging process. Moreover, the current total is lower by 14.8 percent, or $148.3 billion, than the all-time record-high of $1,005.2 billion, measured at the end of 2008.

Non-Revolving Consumer Credit up by 6.4%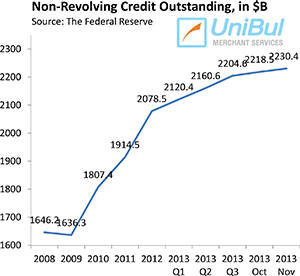 The non-revolving portion of the U.S. consumer debt total, a mix of student loans, auto loans and loans for mobile homes, boats and trailers, but not including home mortgages and loans for other real estate-backed assets, kept rising, in keeping with a long-standing trend. The Federal Reserve reported an $11.9 billion — or 6.4 percent — increase in November from the previous month's level, bringing the total up to $2,230.4 billion. That followed a downwardly revised 7.6 percent ($13.9 billion) increase in October.

As you can see in the chart to your right, the non-revolving component of the total consumer debt didn't fall nearly as much as the revolving one in the wake of the financial meltdown and then it was much quicker to recover the lost ground.

Overall, with the lone exception of August 2011 when it decreased by 5.2 percent, the non-revolving debt total has expanded in every month since July 2010. The figure for November of last year was higher by 37.9 percent, or $613 billion, than the pre-crisis peak of $1,617.4 billion, recorded more than five years ago, in July of 2008.

Student, Auto Loans Up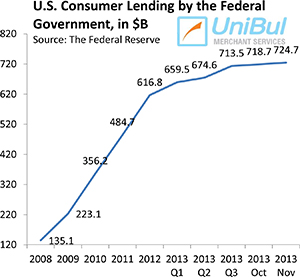 As already noted, the federal student loan total's growth slowed down quite considerably at the beginning of 2013, but then it picked up a bit in August. The Fed data show that lending to consumers by the federal government — which is predominantly made up of educational loans — rose by $6 billion, or less than one percent, in November to $724.7 billion, following a $5.2 billion increase in October. The biggest increase this year was recorded in January when that total grew by $25.9 billion. Overall, since the end of 2008, when it stood at only $135.1 billion, the total of outstanding federal government loans to American consumers has skyrocketed by an astounding 436.4 percent, or $589.6 billion.

Fueled by low interest rates, cars and trucks continued to sell very well, increasing by 7.6 percent in 2013 to 15.6 million, even as sales in December slowed down a bit, due to cold weather, according to Bloomberg. We should expect the trend to hold as the economic environment continues to improve.

Overall Consumer Credit up by 4.8%
The total amount of outstanding U.S. consumer credit — the sum of the revolving and non-revolving portions — rose by 4.8 percent, or $12.3 billion, to $3,087.3 billion in November. The numbers for October were revised slightly downwards, for a gain of 7 percent or $17.9 billion.

The new total is greater by $499.8 billion, or 19.3 percent, than the pre-Lehman record-high of $2,587.5 billion, recorded in July 2008. The entire gain over the post-crisis period is due to the rise in non-revolving credit, as the revolving portion has actually fallen quite substantially, as we saw above.

The Takeaway

So non-home-mortgage-related consumer spending, as a whole, has picked up quite a bit over the past year and there is every reason to expect the trend to continue, and very possibly intensify, into 2014. On the other hand, there is no indication that credit card borrowing will increase this year. Quite the contrary — it looks very much as though Americans are still quite averse to using more of their credit card lines of credit than they are able to repay in full at the end of the month. After all, both the credit card charge-off and delinquency rates have remained in record-low territories for a long time and there are no signs that this is going to change.

The U.S. credit card delinquency rate in November — 1.27 percent — was virtually unchanged from the previous month's level and is down by 27 percent on an annual basis, according to Fitch Ratings. Similarly, the charge-off rate — 3.01 percent — was only marginally above October's level, but was down by 24.37 percent year-over-year and is 74 percent below the historical high of 11.52 percent, reached in September 2009.

Even more impressively, Fitch's monthly payment rate (MPR) — the portion of Americans' total credit card debt they pay at the end of each month — while falling to 24.49 percent from October's record-high of 26.55 percent, is still very high by historical norms. November's MPR was up by 9.97 percent year-over-year and is more than 35 percent above the levels reached during the financial crisis. As long as these indices remain anywhere near their present levels, credit card debt will not be an issue.

Image credit: Flickr / Josh Kenzer (the original image has been modified).