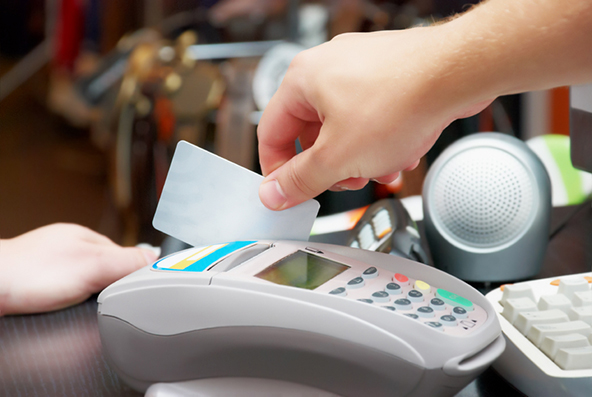 A recent study by TransUnion, one of the three national credit reporting agencies, shows that the new payment hierarchy that emerged in the wake of the housing and financial meltdowns of 2008 — where homeowners pay down their credit card debt before their mortgages — is still continuing, although the trend may reverse itself again soon.

7.24% of Consumers Pay Credit Cards before Mortgages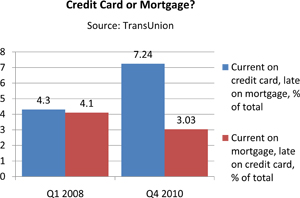 TransUnion's study measures the proportion of American homeowners who are current on their credit card payments and at least 30 days late on their mortgage payments. It shows that the consumer preference for repayment of credit card debt over mortgages has now existed for three consecutive years, after first being observed in the first quarter of 2008.

The report examines data for credit card and mortgage payments delinquent by at least 30 days between the third quarter of 2006 and the fourth quarter of 2010. The researchers found that the proportion of consumers who were delinquent on their mortgages and current on their credit cards in Q4 2010 was 7.24 percent, slightly down from the 7.40 percent figure measured in Q3 2010. This was the first drop since Q1 2008, when it stood at 4.3 percent, but the current ratio is still 68.4 percent higher.

Conversely, the proportion of consumers who were delinquent on their credit cards and current on their mortgages in Q4 2010 has fallen to 3.03 percent. It is the lowest level ever and 26 percent below the Q1 2008 figure of 4.1 percent.

Trend Reversal

The changing consumer payment preferences have been explained as the consequence of the interaction of two different dynamics. As Ezra Becker, vice president of research and consulting in TransUnion's financial services business unit, puts it:
The reversal of the traditional payment hierarchy was driven in large part by home value depreciation and rising unemployment, both of which speak to consumer willingness and ability to pay their mortgages versus their credit cards.

But the trend may have already started to reverse itself again. In fact, another TransUnion-commissioned study reports that 79 percent of the respondents said that if they could only make one payment in the current month, they would pay their mortgages. Only 9 percent said that they would pay their credit card bill and 5 percent said they would pay their auto loan.

If these stated intentions actually materialize in 2011, this would represent a big shift from the actual state of affairs in Q4 2010, according to TransUnion. Of all consumers who defaulted in the final quarter of last year, 52 percent did so on their mortgages while keeping their credit cards current and 22 percent defaulted on credit cards while keeping their mortgages up-to-date.

The Upshot: Lower Credit Card Debt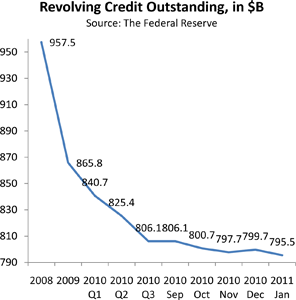 Americans' newly developed aversion to credit card debt has resulted in its dramatic reduction. According to TransUnion's Market Trends, the average U.S. cardholder owed $3,772 on credit cards in Q3 2010, down 1.7 percent from $3,709 in Q3 2009.

According to the Federal Reserve, from August 2008, the month before the Lehman Brothers collapse, to January 2011, the total volume of outstanding revolving credit in the U.S., mostly credit card balances, has fallen from $973.6 billion to $ 795.5 billion, a decrease of 18.3 percent. During this period the average U.S. family carrying outstanding credit card debt — 54 million by the Fed's count — has reduced it by $3,300. There is no indication yet of any reversal of this trend.

Image credit: Mafiakartukredit.com.