Credit card spending in the U.S. continues to grow, albeit more slowly than in previous periods, we learn from the latest SpendTrend report released by First Data, a big payment processing company (and a UniBul Merchant Services' partner).

Even as Americans spend more on credit cards, however, they are paying their outstanding balances on time at the end of each billing cycle at a record-high rate, according to Fitch Ratings, a credit rating agency.

U.S. Credit Card Spending Up 6.6%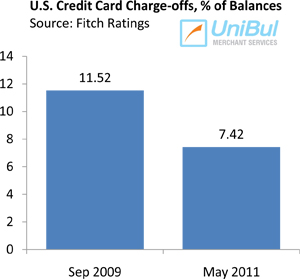 Americans spent 6.6 percent more on credit cards in May of this year than they did in the same month a year ago, the SpendTrend report shows. SpendTrend measures the same-store consumer spending in the First Data network.

According to First Data, this is the slowest year-over-year growth in 2011. Silvio Tavares, SVP and division manager of First Data Information and Analytics Solutions tells us why:
High gas prices and stubbornly high unemployment constrained growth in most merchant categories.

Here is how each of these categories fared in May:

| | | | |
| --- | --- | --- | --- |
| May Transaction Growth | Change | May Dollar Volume Growth | Change |
| Credit | +6.5% | Credit | +8.8% |
| Signature Debit | +6.9% | Signature Debit | +6.6% |
| PIN Debit | +1.4% | PIN Debit | +2.6% |
| Check | -12.4% | Check | -7.9% |
Credit Card Charge-offs, Delinquencies Fall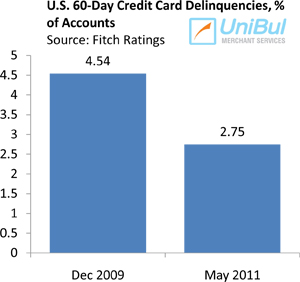 Credit card defaults, or charge-offs, fell again in May, by 0.46 percent, the Fitch report shows. At 7.42 percent, the May level is the lowest one since February 2009, 33 percent below the rate measured at the same time last year and 36 percent lower than the peak of 11.37 percent reached in September 2009.

The rate of credit card payments late by 60 days or more, the equivalent of two missed payments, fell by 0.18 percent in May to 2.75 percent, a 34 percent decrease on a year-over-year basis and the 16th consecutive monthly decline, according to Fitch. The May delinquency level is also 39.43 percent below the high of 4.54 percent reached in January 2010 and equals the average for the period between 2004 and 2008. Early-stage delinquencies – payments late by 30 days or more – also dipped, by 0.27 percent to 3.54 percent according to Fitch.

Credit Card Takeaway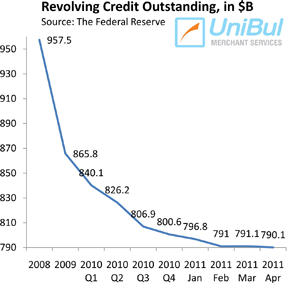 The two reports show that, while Americans are not exactly in an "austerity" mode, they are still very much in a debt control mode. The rate of credit card debt repayment is above 20 percent, according to Fitch, and it is likely to rise further, as credit card borrowing grows and delinquencies and charge-offs fall.

The aggregate amount of outstanding credit card balances continues to fall, according to the Federal Reserve and is now at its lowest level in 7 years. Outstanding revolving credit, a category made up almost exclusively of credit card balances, fell in April by 1.4 percent, or $1 billion, bringing the total down to $790.1 billion, $183.5 billion below the August 2008 level.

I keep asking whether Americans can maintain credit card debt repayment discipline as balances begin to grow again and the economy starts to improve and I keep getting the same positive answer month after month. Then again, the economy is not exactly thriving and unemployment rose again this month, further dampening consumer confidence.

Image credit: Amuslima.com.