The aggregate volume of U.S. consumer credit card debt fell again in September, according to the latest data from the Federal Reserve. The Fed's latest report on outstanding U.S. consumer credit, released on Monday, showed that revolving credit, comprised almost exclusively of outstanding credit card balances, fell for a third month in a row, following two consecutive monthly increases.

Non-revolving U.S. consumer debt, however, having registered in August its largest decline in three years, rose by more than expected for the month. As a result, the cumulative outstanding consumer debt also rose in September.

Credit Card Debt Down 1% in September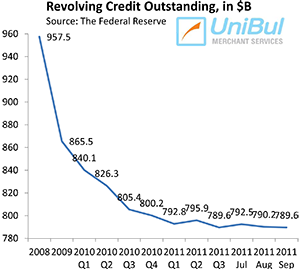 The total amount of outstanding U.S. consumer revolving credit fell in September by one percent, or $627 million, bringing the total down to $789.6 billion, matching the post-Lehman low reached in April, which is also the lowest level on record in more than seven years.

Since the financial crisis began in September 2008, there have only been three months — December 2010 and May and June of this year — for which the Federal Reserve has reported an increase in revolving credit.

As a result, since August 2008, the month before Lehman collapsed, the total consumer credit card debt in the U.S. has fallen by $184 billion, from $973.6 billion to $789.6 billion, a decrease of 18.9 percent. The average American family carrying outstanding credit card balances (54 million by the Fed's count), has reduced its debt burden by $3,407 for the period.

Overall Consumer Credit Up 3.6%

The non-revolving category in the Fed's report, comprised of auto loans, student loans and loans for mobile homes, boats and trailers, but excluding home mortgages and loans for other real estate-secured assets, registered an increase in September, following its first fall in a year in August. The Fed reported a 5.8 percent rise, bringing the total up to $1,662.4 billion, up $8 billion from the previous month.

The total amount of revolving and non-revolving U.S. consumer credit rose by $7.4 billion, or 3.6 percent, to $2,452 billion in September, after falling by a revised $9.7 billion in August.

The Credit Card Takeaway
Americans are paying down their credit card debt at a much slower pace than during the months immediately following the September 2008 financial meltdown, but they continue to do so all the same. Moreover, the delinquency rate on U.S. credit cards — 3.04 percent in September, according to credit ratings agency Moody's — is at a record-low.

Lower delinquencies will manifest themselves into lower defaults for months ahead, even as the late payment curve may have bottomed out already. Moody's aggregate credit card default rate for September — 5.27 percent — was three-quarters of a percent lower than the August level and is expected to fall below 4 percent by the end of 2012.

Perhaps more importantly, Americans are now paying back at the end of each monthly cycle a larger proportion of their outstanding credit card balances than they have in a very long time, indicating a much stricter control over spending. Moody's reports that the monthly payment rate (MPR) in September stood at 21.29 percent, compared to a historical average in the mid-teens. If that is the new normal, it will ensure that low delinquency and default rates are also here to stay.

Of course, another plausible possibility is that, once we get back to full employment and consumer confidence improves, Americans will fall back into their free spending pre-recession pattern, the MPR will return to its pre-Lehman level and delinquencies and defaults will promptly follow suit. Unfortunately, we are unlikely to be able to test our propositions in the near future.