The aggregate volume of U.S. consumer credit card debt fell again in August. The latest report on outstanding U.S. credit, released by the Federal Reserve on Friday, showed that revolving credit, made up almost exclusively of outstanding credit card balances, fell for a second consecutive month after rising in the two previous months.

While a drop in credit card debt was expected, the surprise came from a fall in non-revolving U.S. consumer debt, which registered its largest decline in three years. As a result, the total outstanding consumer debt fell for a first time following ten consecutive monthly increases.

Credit Card Debt Down 3.4% in August

The aggregate amount of outstanding consumer revolving credit in the U.S. fell in August by 3.4 percent, or $2.2 billion, bringing the total down to $790.1 billion, very close to the post-Lehman low of $789.8 billion reached in April, which was the lowest one on record in almost seven years.

Since the financial meltdown began in September 2008, following the collapse of Lehman Brothers, there have only been three months — December 2010 and May and June of this year — in which the Federal Reserve has reported a rise in revolving credit.

As a result, the aggregate amount of outstanding credit card balances in the U.S. has decreased by $183.5 billion, from $973.6 billion to $790.1 billion, since August 2008, the month before Lehman tumbled, a drop of 18.8 percent. On average, each of the 54 million American families (by the Fed's count) carrying outstanding credit card balances, has slashed its debt burden by $3,398 for the period.

Overall Consumer Credit Down 4.6%

The non-revolving category of the Fed's U.S. consumer debt total, made up of student loans, auto loans and loans for mobile homes, boats and trailers, but excluding home mortgages and loans for other real estate-secured assets, registered a decline in August after twelve consecutive monthly increases. The Fed reported a 5.2 percent drop, following an 11.3 percent spike in July, bringing the total down to $1,654.8 billion, a fall of $7.3 billion from the previous month.

The aggregate amount of revolving and non-revolving U.S. consumer credit fell by $9.5 billion, or 4.6 percent, to $2,444.9 billion in August, after rising by a revised $11.9 billion in July. It was the biggest fall in more than a year.

The Credit Card Takeaway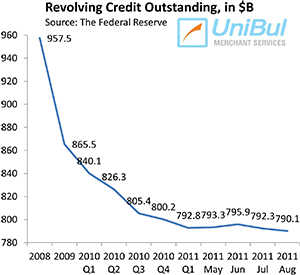 It seems like the fall in non-revolving consumer credit took everyone by surprise, this blogger very much included. Bloomberg tells us that the median forecast of 33 economists surveyed by them was for an $8 billion increase in August, instead of the $9.5 billion decrease the Fed reported. It is far from clear whether this will turn out to be an one-off event or the beginning of a trend, but we do know what the biggest causes for this across-the-board belt-tightening are: the extremely high unemployment rate and the precarious health of the American economy (not to mention the dire warnings we keep getting about a likely European collapse that would make the Lehman event pale in comparison).

What is much easier to forecast is that credit card defaults will continue to fall in the coming months. The latest data from Fitch Ratings – a credit ratings agency – show that credit card delinquencies, which are seen as indicators of future defaults, have fallen in August for the 19th consecutive month. The current rate of 2.15 percent is less than half the 4.50 percent peak recorded 18 months ago.

Additionally, Fitch reports that the monthly credit card repayment rate in August was at 21.14 percent, which is about 30 percent higher than the historical average of 16.3 percent. So all indications are that Americans will continue to pay down credit card debt and the trend is very likely to hold until the macroeconomic conditions show steady signs of improvement.