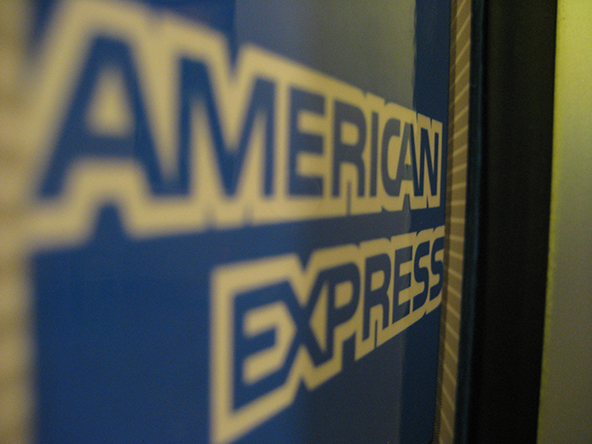 Merchants accepting American Express cards are subject to various fees that can be assessed for a number of reasons. Mostly these are card acceptance-related charges, but can also include fees for non-compliance with AmEx policies and procedures.

American Express' merchant fees are listed in each processing agreement. Following is a list of these fees, with description and amount.

American Express Merchant Fees

Card acceptance discount fees.
Discount — the amount varies, as shown in the table below. The discount is the amount American Express charges merchants for accepting their cards.




| | | |
| --- | --- | --- |
| Industry | Discount | Prepaid / Gift Card |
| B2B | 2.89% plus $0.15 Transaction Fee* | 1.95% |
| Education | 2.50% | 1.95% |
| Fast Food Restaurant | 3.50% | 1.95% |
| Independent Gas Stations | 3.25% | 1.95% |
| Lodging | 3.50% | 1.95% |
| Mail Order & Internet | 3.50% | 1.95% |
| Office-based Healthcare | 2.55% (only for MCC 8011 and 8021; for all other Healthcare see Services, Wholesale & All Other) | 1.95% |
| Other Transportation | 3.50% | 1.95% |
| Restaurant** | 3.50% plus $0.05 Transaction Fee* | 1.95% |
| Retail** | 2.89% plus $0.10 Transaction Fee* | 1.95% |
| Services, Wholesale & All Other | 2.89% plus $0.15 Transaction Fee* | 1.95% |
| Supermarkets | 2.30% | $0.20 Transaction Fee* |
| Telecommunications | 3.50% | 1.95% |

*Fee to be applied by American Express.

**0.30-percent downgrade is charged by American Express for transactions whenever a CNP (card-not-present) charge occurs. CNP means a charge for which the card is not presented at the point of purchase (e.g., charges by mail, telephone, fax or the internet).


An inbound fee of 0.40 percent is charged to any transaction made using a card issued by an issuer located outside of the United States. This fee is applicable to all industries listed above, except Education in the following categories: Sporting & Recreation Camps (MCC 7032), Elementary & Secondary Schools (MCC 8211), Colleges, Universities, Professional Schools (MCC 8220) and Child Care Services (MCC 8351). Furthermore, the inbound fee is not applicable to international prepaid / gift card transactions.

Monthly flat fee — $7.95 per month. If American Express charges a monthly flat fee, they will debit the merchant's account for the amount of the fee instead of debiting the amount corresponding to the discount rate. This is an alternative option available to some smaller merchants, which have an estimated annual American Express transaction volume lower than $4,999. Upon exceeding the $4,999 transaction threshold in any consecutive 12-month period, the merchant's pricing will be automatically switched to the standard discount rate pricing.


Merchants in the following industries are required to be set up on monthly flat fee, irrespective of their estimated processing volume:

Internet-Physical Delivery merchants.
Home-Based Businesses.

Authorization fees.
Gateway fees — $0.001 per charge. If the merchant's processing bank routes authorization requests through the Visa or MasterCard processing gateways, AmEx passes the associated fees to the merchant, after a certain thresholds are met.
Non-swiped transaction fee — 0.30 percent of the transaction amount. This is a fee applied to any charge for which AmEx did not receive the full magnetic stripe-read data from the card.
Voice authorization fee — $0.65 per request. If the merchant's point-of-sale (POS) system cannot connect to American Express' electronic authorization system, the merchant needs to call American Express and obtain a voice authorization.

Submission and settlement fees.
Check fee — $1.50 per check. This is a fee assessed for any check issued by AmEx.
Paper statement fee — $7.95 per statement. This fee can be assessed if the merchant chooses to receive paper statements.
Paper submission rate — varies. Transactions are typically submitted electronically. Exceptions are made for merchants like taxis and limousine services, street fairs, etc., where transactions are submitted on paper and are charged a higher discount rate.
Technical specifications non-compliance fee — $0.10 – $1.00 per transaction. This fee applies to any transaction submitted to American Express that does not comply with their technical specifications.
Monthly gross pay fee — 0.03 percent of the transaction amount. This fee is charged to merchants enrolled in the Monthly Gross Pay Option, if the transaction amount exceeds a pre-determined threshold amount.
Data incident management fee — not to exceed $100,000 per data incident. This is a fee assessed to a merchant in respect of a data incident.
Data security non-validation fee — $5,000 – $45,000. Depending on the merchant's transaction volume, the merchant has reporting obligations under AmEx's Data Security Operating Policy including providing Validation Documentation.

Excessive dispute fee — $5 per disputed transaction if the merchant is in the Immediate Chargeback Program or $15 per disputed transaction if the merchant is not there. This fee is assessed if in any three months, a merchant's monthly ratio of disputed transactions to total transactions (minus credits) exceeds three percent, and then in any month when the merchant again exceeds this ratio. It is applied for each disputed transaction in excess of this ratio.

The Takeaway

Yes, if it looks as though accepting American Express cards is considerably more expensive than taking the cards of the other major brands, that is precisely the case. Still, as I keep telling merchants, it never hurts to have the option turned on into your merchant account, even if you don't think you'll be taking AmEx cards. If nothing else, it doesn't cost you anything to have it available, as there are no monthly fees involved. But if at some point in the future you decide, as many a merchant has done before you, that not taking these cards actually costs you more in terms of lost revenues than it saves you in unpaid processing fees (which is likely to be the case), you can simply add the American Express logo to the others at your checkout and start taking their cards. However, the choice is yours.

Image credit: Wikimedia Commons.