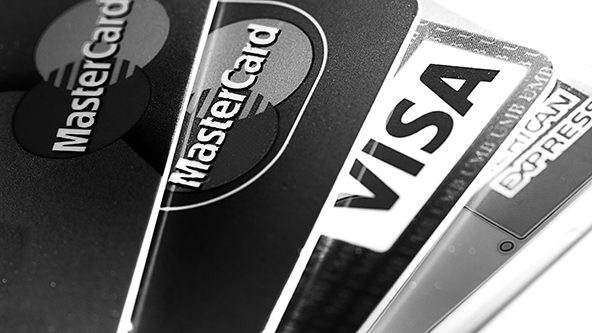 The already sizeable margin by which Alaska lead the nation in the unenviable category of most credit card indebted state grew even wider in the second quarter of this year, we learn from TransUnion's latest analysis of credit-active U.S. consumers. It is quite an achievement—whereas most other contestants are grouped in batches of similarly indebted states, the northernmost member of the Union's lead over the second-placed Colorado is no less than 23 percent! As usual, the other states rounding out the top four are the same from last quarter's list, with the only difference being that the third and fourth have swapped positions, but they are only separated by a single dollar. Similarly, the bottom of the table is mostly populated by familiar names, with Nebraska being the sole new entrant, squeezing past Wisconsin to become the fourth least credit card indebted state.

The national credit card delinquency rate in the second quarter has fallen both on a quarterly and annual basis, the credit reporting agency tells us, and is now only a single basis point above the all-time low measured 19 years ago. Once again, Southern states are in full control of the top of the table with the nation's highest delinquency levels and Midwestern states occupy the bottom. However, the good news is that each one of these states has registered a huge improvement over its previous quarter's result. In fact, only two states—Indiana and New Hampshire—have seen small increases in their late payment rates, we learn. Let's take a closer look at the numbers.

Alaskans Most Indebted to Credit Cards, Again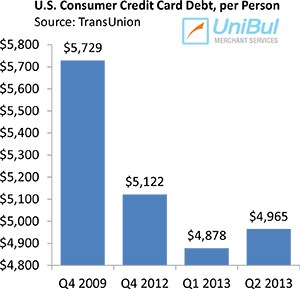 The average amount of credit card debt per U.S. borrower in Q2 2013—$4,965—is virtually unchanged from the $4,971 level measured in Q2 2012. On a quarterly basis, there was a slight increase of 1.9 percent—from $4,878 in Q1 2013. Since reaching a peak of $5,729 in Q4 2009, Americans have steadily reduced their credit card debt by $764, or 13.3 percent, on average.

Here are the rankings of the leading states, by the average credit card debt of their residents, on both ends of TransUnion's quarterly table:

1. Alaska — $6,910.
2. Colorado — $5,625.
3. Connecticut — $5,617.
4. North Carolina — $5,548.
…
47. Nebraska — $4,298.
48. South Dakota — $4,236.
49. North Dakota?á– $4,011.
50. Iowa — $3,885.

On a quarterly basis, Alaska's average rose by $121—from $6,789 in Q1 2013—and the other most indebted states registered similar increases; but so did the least indebted states as well. The biggest year-over-year decline in credit card debt was recorded in Oregon—2.8 percent (from $4,912 to $4,773)—and the biggest increase occurred in Rhode Island—3.1 percent (from $4,949 to $5,102).

Credit Card Delinquencies Keep Falling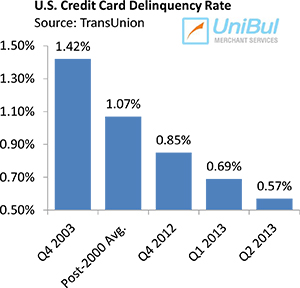 TransUnion reports that the national credit card delinquency rate fell to 0.57 percent in the second quarter, down significantly from the 0.69 percent level measured in Q1 2013 and also down from the 0.85 percent level of Q4 2012. The delinquency rate is not yet at an all-time low—the lowest one ever measured by the credit bureau was 0.56 percent in Q3 1994—but it is nevertheless very low by historical standards and well below the all-time high of 1.42 percent measured in Q4 2003 and the post-2000 average of 1.07 percent.

As I keep saying on this blog, TransUnion's quarterly report gives us a different look at the U.S. delinquency picture, arguably a more valuable one than what we get from the card issuers' monthly regulatory filings, because the credit bureau reports on the debt repayment behavior of American consumers, rather than on individual credit card accounts, as the issuers do. As a single consumer may be delinquent on multiple credit card accounts, the average rates reported by the issuers are higher than the one reported by TransUnion. Unlike the issuers, the agency has access to data for all of a consumer's accounts, which allows it to measure the share of consumers who are late on a payment to any one (or more than one) of their credit cards. Moreover, whereas TransUnion defines an account as delinquent if a payment is overdue by 90 days or more, the issuers use two shorter time periods: early-stage delinquencies for payments late by 30-59 days and late-stage delinquencies for the ones overdue by 60 days or more. The end result is that TransUnion's delinquency rate falls somewhere between the card issuers' delinquency and charge-off rates (accounts are usually charged off as losses at 180 days after the last payment on the account).

Mississippi Has the Highest Delinquency Rate, South Dakota—the Lowest

In Q2 2013, only two states saw an increase in their credit card delinquency rates. Listed below are the states leading both ends of TransUnion's delinquency table:

1. Mississippi — 0.87%.
2. Alabama — 0.77%.
3. Arkansas — 0.76%.
4. Louisiana — 0.76%.
…
47. South Dakota — 0.38%.
48. Montana — 0.37%.
49. Minnesota — 0.37%.
50. North Dakota — 0.35%.

The biggest year-over-year delinquency increase was recorded in New Hampshire—9.4 percent—(from 0.53 percent to 0.58 percent). The largest decline was measured in Oregon—23.7 percent (from 0.59 percent to 0.49 percent).

The Takeaway

Ezra Becker, a TransUnion vice president, tells us that his company's findings confirm that "consumers continue to value their credit card relationships… [which] is best demonstrated by the historically low credit card delinquency rates we observe today" and his observation is supported by credit card data released by a host of other sources. Becker goes on to predict that "consumers will continue to prioritize their credit card relationships over other credit obligations, and delinquencies should remain low into the near future" and I see no reason to doubt the accuracy of his forecast—all other available credit card data unequivocally confirm that Americans' credit card accounts have been in great shape for at least a couple of years and are still improving.

Here are TransUnion's findings presented in an infographic: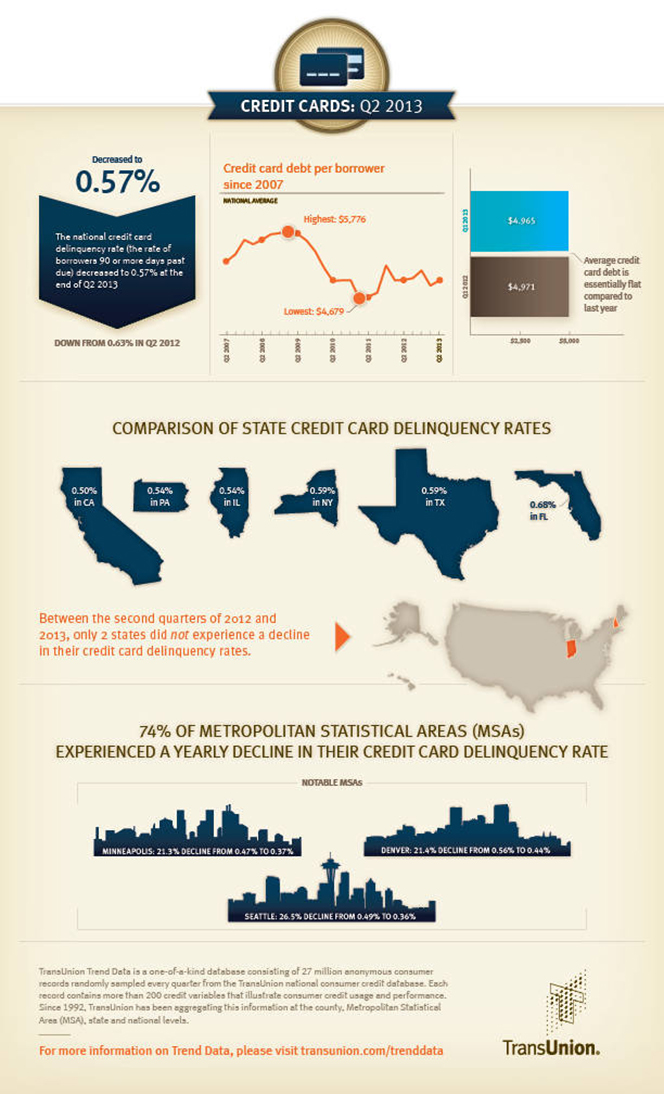 Image credit: Flickr / jeff_golden.