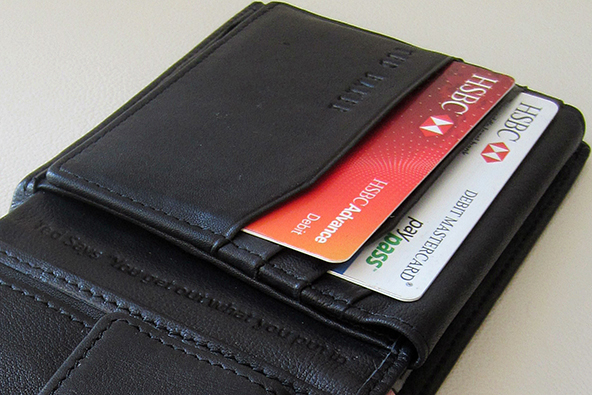 That is one of the key findings of TransUnion's latest quarterly analysis of credit-active U.S. consumers. Alaska has consistently led the nation in this unenviable statistic, so the credit bureau's results do not come as a surprise, but the data are telling us that the other states rounding out the top four are also used to be there, even though the competition for the 2-4 spots is much more intense. In fact, much the same is true for the bottom of the table.

The national credit card delinquency rate in the fourth quarter has risen both on a quarterly and yearly basis, TransUnion tells us, but it is still in a historically low territory. Three southern states lead in this category, with Mississippi on top. However, Alaska is back in the lead in perhaps the more worrying category of fastest-growing delinquency rate, in which the nation's northern-most state leads the field by a huge margin. Let's take a closer look at the numbers.

Alaskans Most Indebted to Credit Cards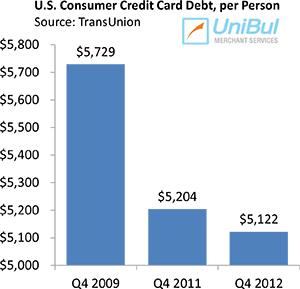 The average amount of credit card debt per borrower in Q4 2012 — $5,122 — has decreased by 1.6 percent from the $5,204 level measured in Q4 2011. On a quarterly basis, however, there was a 2.5 percent rise — from $4,966 in Q3 2012. Credit card debt in the U.S. peaked at $5,729 in Q4 2009.

Here are the rankings of the leading states, by the average credit card debt of their residents, on both ends of TransUnion's quarterly table:
1. Alaska — $7,012.
2. Connecticut — $5,820.
3. Colorado — $5,792.
4. North Carolina — $5,748.
…
47. West Virginia — $4,412.
48. South Dakota — $4,303.
49. North Dakota?á– $4,179.
50. Iowa — $3,048.

The biggest year-over-year decline in credit card debt was recorded in Idaho — 5.78 percent (from $4,910 to $4,626) — and the biggest increase occurred in the District of Columbia — 1.87 percent (from $5,530 to $5,634).

Credit Card Delinquency Rate Up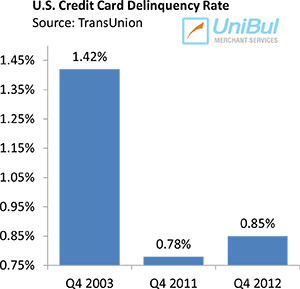 TransUnion reports that the U.S. credit card delinquency rate stood at 0.85 percent in Q4 2012, up from the 0.78 percent level recorded in Q4 2011, and also up from the previous quarter's level of 0.75 percent. Yet, the delinquency rate is still low by historical standards, and well below the peak of 1.42 percent measured in Q4 2003, we learn.

TransUnion's quarterly delinquency report is perhaps more valuable than the data we get from the card issuers' monthly regulatory filings, because the credit bureau's data give us a more comprehensive picture of the debt repayment behavior of American consumers. Whereas the issuers calculate their delinquency ratios on a per-account basis, TransUnion measures the share of consumers who are late on a payment to any one of their credit cards. Moreover, the credit bureau defines an account as delinquent if a payment is overdue by 90 days or more, whereas the issuers use two shorter time periods: early-stage delinquencies for payments late by 30-59 days and late-stage delinquencies for payments past due by 60 days or more. The upshot is that TransUnion's delinquency rate falls somewhere between the card issuers' delinquency and charge-off rates (accounts are usually charged off as losses at 180 days after the last payment on the account).

Mississippi Has the Highest Delinquency Rate, North Dakota — the Lowest

In Q4 2012, only nine states saw a decline in their credit card delinquency rates. Listed below are the states leading both ends of TransUnion's delinquency table:
1. Mississippi — 1.41%.
2. Alabama — 1.16%.
3. Georgia — 1.12%.
4. Nevada — 1.12%.
…
47. Utah — 0.57%.
48. Minnesota — 0.54%.
49. Montana — 0.53%.
50. North Dakota — 0.41%.

The biggest year-over-year delinquency increase was measured in Alaska — 53.66 percent (from 0.41 percent to 0.63 Percent) — and the largest decline took place in Oregon — 13.04 percent (from 0.69 percent to 0.60 percent).

The Takeaway

Ezra Becker, a TransUnion vice president, has this summary of his company's findings:
Though serious delinquencies have risen seven basis points in the last year, average credit card debt has actually dropped, which is a sign that consumers continue to manage their credit well. Both credit card delinquencies and balances are below historic norms.

…

Consumers continue to value their credit card relationships and are diligent about paying off their balances in a timely fashion.

And apparently the card issuers take a similar view of the data, as evidenced by their willingness to lend to subprime borrowers. TransUnion tells us that the share of credit cards going to consumers with a VantageScore credit score lower than 700 (on a scale of 501-990) was 30.51 percent in the third quarter of 2012, slightly below the level measured in Q3 2011 — 30.63 percent — but much higher than the 27.03 percent ratio calculated in Q3 2010.

So Americans' credit card accounts look in good shape.

Here are TransUnion's findings presented in an infographic: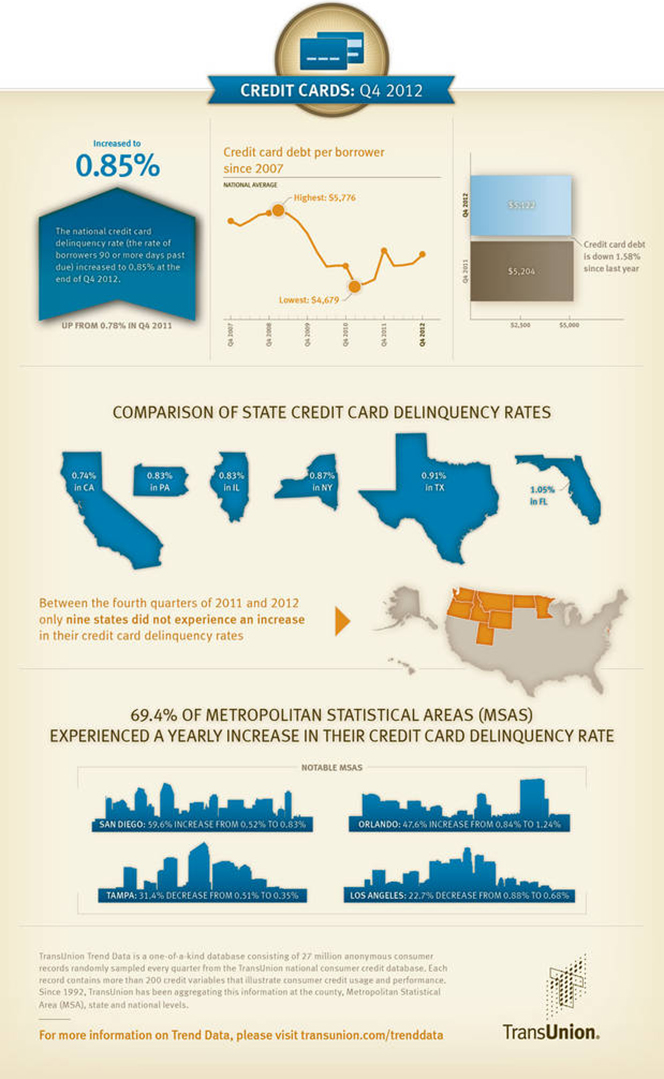 Image credit: Flickr / 401(K) 2013.