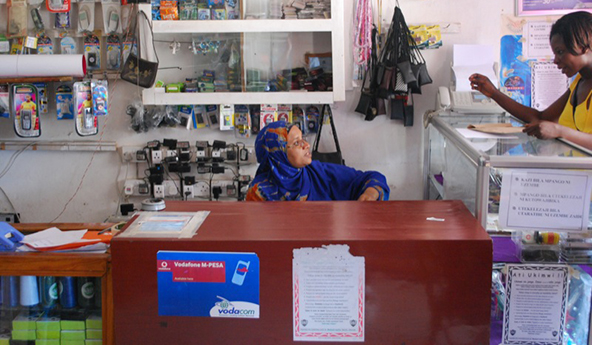 The developing world, and Africa in particular, rarely produces a leader in any type of business, let alone a technology-driven industry. Yet, as BBC's Fiona Graham reminds us, that's exactly what's happened to the world of mobile payments.

Graham writes about Kenya's M-Pesa mobile money transfer service. Mobile money transfers allow people to send money to other consumers using only their mobile phones. In Graham's words:
Over 50% of the adult population use the service to send money to far-flung relatives, to pay for shopping, utility bills, or even a night on the tiles and taxi ride home.

M-Pesa has made it very easy for users to transfer money:
To use the service, customers first register with Safaricom [M-Pesa is a joint venture between Vodafone and Kenya's Safaricom] at an M-Pesa outlet, usually a shop, chemist or petrol station. They can then load money onto their phone. The money is sent onto a third party by text message. The recipient takes the phone to their nearest vendor, where they can pick up the cash.

So convenience is one reason why mobile money transfers are so popular in Kenya and other developing countries. But perhaps just as important is that for the majority of consumers there are simply no other options. Graham:
"The success of the technology lies in necessity," according to Seema Desai, director of the Mobile Money for the Unbanked (MMU) programme. "In the developed world between 96-98% of people have bank accounts."

…

"In rural Kenya it is completely different. My bank is hours away and I don't have internet access. But I do have access to a mobile phone."

The multitude of available payment options in the developed world is the biggest reason why using cell phones for payment has been slow to catch up there. However, new technologies are now increasing the appeal of mobile payments in the rich world.

There are four main models for mobile payments currently being used in the developed world:
Premium SMS-based payments. Consumers send a payment request to a short code and a payment is applied to their phone bill.
Direct mobile billing. Consumers select the direct mobile billing option during checkout at a participating e-commerce website and the payment is again applied to their monthly phone bill.
Mobile web payments. Consumers use web pages or applications installed on the mobile phone to make a payment through a credit or debit card or through a third-party service provider such as PayPal.
Contactless NFC (Near Field Communication) payments. Consumers use a special smartcard, attached to the mobile phone, which uses a short-range high frequency wireless communication technology to exchange payment data with a reader, as the phone is waved by it. Most payments are deducted from a prepaid card account, but can also be charged directly to mobile or bank accounts.

These new mobile payment platforms are quickly gaining popularity in the developed world and the gap with Kenya and other lesser developed countries is quickly narrowing. The total volume of mobile payments in the U.S. will grow at a 68 percent compound annual growth rate between 2010 and 2015, reaching $46 billion next year and $214 billion in 2015, according to Aite Group LLC, a research and advisory firm focused on the financial services industry.

Eventually, mobile payments will become mainstream across the world. By 2014, "nearly half of all mobile phones users worldwide will use mobile payments," according to Howard Wilcox of Juniper Research, a market and technology research company.

Image credit: Wikimedia Commons.