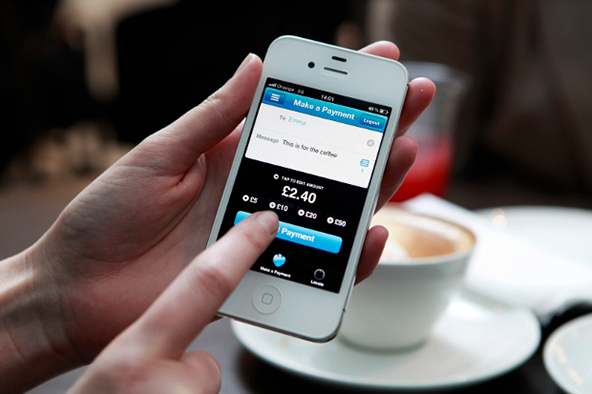 The sales of cell phones with built-in near field communication (NFC) capability is set to explode from around 52.6 million units sold in 2010 to 220.1 million in 2014, an increase of 418 percent, according to iSuppli, a market research firm specializing in the electronics industry. NFC-enabled devices shipped in 2014 would account for 13 percent of all handsets sold during that year, the report said.

NFC uses short-range high-frequency wireless signals to enable the exchange of data between devices over a distance of about four?áinches. An NFC chip can transform the smart phone to which it is attached into a tool for making payments by enabling credit card information stored on the phone to be transmitted to an NFC-equipped point-of-sale (POS) reader within.

iSuppli's growth forecast?á is not exactly surprising, considering that NFC-based mobile payments programs have been in the spotlight for months now and have involved most of the big players in all of the industries that stand to gain the most of the exponential growth of the nascent industry.

Three of the biggest U.S. mobile carriers, AT&T, T-Mobile and Verizon, for example, have recently formed a joint venture and have already launched a national mobile commerce network, based on NFC technology. The payments will be processed on Discover's network and the accounts will be managed by British bank Barclays.

Not to be outdone, Visa has just launched a mobile payments service of its own, based on the In2Pay microSD card, developed by Texas-based DeviceFidelity, which is plugged into the phone's SD card slot and stores the user's payment information. To make a payment, the user waves the phone in front of an NFC-enabled contactless reader at the point of sale and transaction information is exchanged wirelessly. Wells Fargo, along with JP Morgan Chase, US Bancorp and Bank of America, has already tested the In2Pay microSD chip.

Google's Gingerbread, the newly released latest version of the search giant's Android mobile operating system will also allow NFC-enabled devices to accept mobile payments. In fact, Google Nexus S, the successor to the Nexus One, is the only device we know of that can boast NFC capabilities at the moment.

Earlier this year Apple obtained several near field communication (NFC) patents that suggest that mobile payment capable iPhone may be in the offing. There are rumors that iPhone 5 will be NFC-enabled.

Nokia, whose Symbian mobile operating system currently owns 40.1 percent of the smart phone market, said that all new smart phone models launched in 2011 will support NFC.

So as big as the numbers in iSuppli's and other reports are, it seems like, if anything, the reality may end up outstripping even the boldest forecasts. Yes, there will be a lot of hype, but this time, it will be largely justified.

Image credit: Barclays.co.uk.